Monthly Archives:
April 2014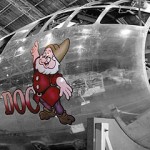 Jeff Turner, Doc's Friends Chairman, and Tony Mazzolini, who found the deteriorating B-29 and brought it back to its birthplace, will give an update on its restoration and share their plans for its eventual return to the sky at the Wichita Aero Club May luncheon on Monday, May 12, 2014.  Later in the day, there will also be a reception at the hangar on the east side of South Oliver, opposite the Spirit AeroSystems headquarters where the Wichita-built B-29, dubbed "Doc" is being restored.
The airplane was originally part of a squadron named for Snow White and the Seven Dwarfs.  It is being restored by volunteers, many of whom worked on B-29s at the Boeing Wichita plant during World War II and the Korean Conflict.  An afternoon Open House, for luncheon attendees and their guests, will provide visitors with the opportunity to see Doc firsthand and learn more about how to support the restoration efforts.  It will include a cocktail reception and photo opportunities, as well as a brief press conference.
The Wichita Aero Club luncheon will be held in the Doubletree Hilton at Wichita Airport Emerald Ballroom from noon until 1:30 PM.  Tickets for the luncheon are $30 for WAC members and $40 for non-members.  Both it and the evening reception are open to the public.  The afternoon Open House will begin at 4:00 p.m. and will run until 6:30 p.m. at Doc's Hangar.  The press briefing featuring Jeff Turner, Tony Mazzolini and members of the volunteer team that is working on Doc will begin at approximately 4:30 P.M.
"This presentation by Doc's Friends will provide the Aero Club with fascinating details about Doc's history, the renovation process and the future plans for the B-29," said Dave Franson, President of the Wichita Aero Club.  "We are also excited to have to opportunity to see Doc and hear the back story of this airplane, it's previous service and the plans for its return to the skies in the not-too-distant future."
Doc's story began in March of 1945 at the Boeing plant in Wichita, Kansas.  Originally built by the Boeing Company in 1945, the B-29-20-BW, or B-29 Superfortress, was a one-of-a-kind airplane. The B-29 was designed and built by Boeing in Wichita and flown primarily by the U.S. Air Force at the end of World War II and then during the Korean War.
In 1987, after sitting more than 40 years in the Mojave Desert where it was a sun baked sanctuary for birds and many other desert creatures, Doc was rescued by a group of historians with a dream. The group, led by Tony Mazzolini and backed by the United States Aviation Museum, had a plan to restore the B-29 and eventually get it back into the air.  It was transported from the desert to Wichita in 2000, where  work began to restore it to flying status.  A group of Wichita business leaders founded Doc's Friends in early 2013 with a vision to see the historic Boeing B-29 Superfortress restored to flying condition.
A new non-profit group, Doc's Friends has taken ownership of the airplane and is leading the effort to refurbish the vintage airplane. It is believed that Doc is the last known Boeing B-29 Superfortress that is in restorable condition.
The founding Board of Directors for Doc's Friends includes Wichita Aero Club members Jeff Turner, Lynn Nichols, Jeff Peier, Tom Bertels, Charlie Chandler, Jack Pelton and Ron Ryan, as well as Tim Buchanan, Steve Clark, and Brad Gorsuch.
In February of 2013, the airplane was moved from a storage hangar to its current active hangar space donated by Boeing.  This has allowed volunteers to resume work to restore the aircraft.  The luncheon and Open House on May 12 will also provide information on how to volunteer to work on Doc or donate to Doc's Friends.  Additional information is available on the organization's website, www.b-29doc.com.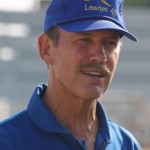 When Wednesday, April 16, 2014
Where Stearman Field — Jim Lee Hangar
What time 2:00 p.m.
Directions to the hangar
From Highway 254 go south on Andover Road
Take Andover Road to 40th Street
Turn left on 40th Street and go 1.25 miles
Jim Lee's hangar has an observation tower and will be located on the left
​​Flowers may be sent to Lee Aerospace until Tuesday afternoon.
Lee Aerospace
9323 E 34th Street N | Wichita, KS 67226
316.636.9200
Pete Reynolds Hall of Fame Induction Ceremony
Also, please don't forget about Pete's Hall of Fame induction ceremony on Tuesday, April 15. The event is scheduled from 5:30 PM until 7:30 PM and will take place at the Kansas Aviation Museum, 3350 S. George Washington Boulevard in Wichita. It will include a reception followed by the induction of Mr. Reynolds into the Kansas Aviation Hall of Fame, which is housed in the KAM facility.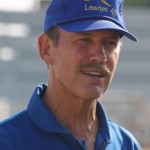 The Wichita Aero Club will team with the Kansas Aviation Museum (KAM) to host a special event surrounding the induction of Pete Reynolds, former Bombardier test pilot, on the evening of Tuesday, April 15. The event, scheduled from 5:30 PM until 7:30 PM will take place at the Kansas Aviation Museum, 3350 S. George Washington Boulevard in Wichita. It will include a reception followed by the induction of Mr. Reynolds into the Kansas Aviation Hall of Fame, which is housed in the KAM facility. The no-cost event is open to the public.
"This event is being held to provide the local community with the opportunity to experience some aviation history first hand and honor a local figure who helped make it," said Dave Franson, president of the Wichita Aero Club. "We're very pleased to be collaborating with the Kansas Aviation Museum to host this reception and induction ceremony for Pete Reynolds, who participated in the establishment of so many Learjet milestones during his long career as a test pilot. Pete epitomizes the vision and courage that all of us in the industry assign to test pilots. He's a terrific pilot who flew numerous first flights and also established a number of time-to-climb and performance records with Neil Armstrong, the first man on the moon. We hope lots of Pete's friends and colleagues will be able to join us for this occasion at the Musuem.
"This event is part of the WAC's efforts to expand our activities and include more members of the aviation and local community. We're also hoping to encourage more support and involvement in the Aero Club and the Kansas Aviation Museum through this effort, as well," Franson concluded.
Pete Reynolds had a major role in the development, testing and certification of virtually every Learjet model for more than 3 decades. A decorated Air Force pilot in the 1970s, he joined Learjet in 1973. He spent the last eight years of his tenure with Bombardier Aerospace as the Vice President of Flight Test, during which he was responsible for managing 500 employees and all flight tests conducted on Canadair, deHavilland and Learjet products. He is a fellow of the Society of Experimental Test Pilots (SETP) and, in 1999, received the organization's prestigious J.H. Doolittle Award for outstanding accomplishments in aerospace engineering and technical management. He flew eight first flights (on virtually every Learjet Model from the 24E to the 40) and holds numerous FAI World Records. Five of those were set with Neil Armstrong in Learjet 28-001 on February 19 and 20, 1979 for time to climb, altitude, and altitude in horizontal flight. He has flown more than 12,000 hours and was a 1992 Kansas Governor's Aviation Honors recipient.