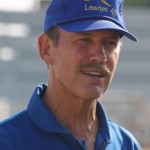 When Wednesday, April 16, 2014
Where Stearman Field — Jim Lee Hangar
What time 2:00 p.m.
Directions to the hangar
From Highway 254 go south on Andover Road
Take Andover Road to 40th Street
Turn left on 40th Street and go 1.25 miles
Jim Lee's hangar has an observation tower and will be located on the left
​​Flowers may be sent to Lee Aerospace until Tuesday afternoon.
Lee Aerospace
9323 E 34th Street N | Wichita, KS 67226
316.636.9200
Pete Reynolds Hall of Fame Induction Ceremony
Also, please don't forget about Pete's Hall of Fame induction ceremony on Tuesday, April 15. The event is scheduled from 5:30 PM until 7:30 PM and will take place at the Kansas Aviation Museum, 3350 S. George Washington Boulevard in Wichita. It will include a reception followed by the induction of Mr. Reynolds into the Kansas Aviation Hall of Fame, which is housed in the KAM facility.