Blog
David Franson
May 21, 2015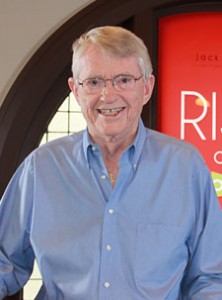 The Wichita Aero Club will depart from its traditional monthly luncheon event in July when it hosts an evening reception at the Wichita Air Services hangar at Jabara Airport on Monday, July 13th. The event will feature prominent Wichita businessman Jack DeBoer, who will detail his use of airplanes in the conduct of his highly successful business ventures over the course of a career that includes the creation of extended-stay and all-suite hotel concepts. DeBoer's comments will include highlights from his book that details his successful business model, Risk Only Money.  
The reception will also honor the new WAC Stimpson and Humphrey Scholarship winners, who were  announced at the conclusion of the Aero Club's annual Golf Classic on June 21st. Michael Parker and Karen Morrison of Kansas State University and Bryan Cox of Wichita Area TechnicalCollege will be recognized.  All three have been invited to attend.  Parker, who is in Jackson, Mississippi for the summer, will beunable to attend but Cox and Morrison are both planning to be there.  Ms. Morrison also flew in the recently-concluded Women's Air Race Classic.
The July 13th reception will be from 4:30 p.m.—6:00 p.m. in the Wichita Air Services hangar, and hors d'oeuvres will be served. Tickets for the event are available for $25 for Wichita Aero Club member and $35 for non-members and can be purchased using PayPal online at the Aero Club's website or by calling the Aero Club office at 316.681.4471.
"This will provide an opportunity for those who cannot normally attend the monthly luncheons to experience the Aero Club, as well as see some airplanes up close, because there will be a couple on display in the hangar," said WAC President Dave Franson.
The CEO of Waterwalk Hotel Apartments, Jack DeBoer is an avid and successful businessman involved in his community. He is a past president of the Wichita Area Chamber, one of the founders of the Center for Entrepreneurship at Wichita State University, a trustee of Chatham Lodging Trust, and former chairman of the Board of Trustees of Youth for Understanding, the world's leading student exchange organization. DeBoer is also a former board member of the Wesley Medical Endowment Foundation and the Greater Wichita Community Foundation.His contributions outside of his business interests have been recognized with numerous awards, including the Wichita Area Chamber's highest honor—The Uncommon Citizen Award—in 1992; induction into the Wichita Business Hall of Fame in 1997; induction into the Kansas Business Hall of Fame in 2013. In 2005, he received an honorary Doctorate of Humane Letters from Sterling College (Kansas). Most recently, DeBoer received the Lifetime Achievement Award from the Americas Lodging Investment Summit in the fall 2013.  Jack DeBoer also loves to fly. He is an active pilot and has flown the corporate aircraft as Captain. He currently holds the 3 kilometer world speed record for jet aircraft under 18,000 pounds. Most recently, Jack authored a book titled Risk Only Money, all the proceeds of which benefit World Vision-Burma.