Scholarship Information
EDWARD

W.

STIMPSON

SCHOLARSHIP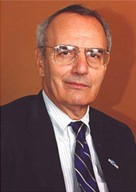 The Wichita Aero Club has announced the creation of the Edward W. Stimpson scholarship to honor the memory of the late President of the General Aviation Manufacturers Association and ICAO Ambassador and provide an annual award for applicants who seek to make a significant contribution to the aviation industry upon completion of their education.
Initially, the Aero Club will award a $2000 scholarship to a student who has completed at least 50% of the required credits for a certificate, associate's degree, or a bachelor's degree at an accredited educational institution and have demonstrated an interest in pursuing a degree and/or obtaining professional certification in an aviation-related field of study. The amount and/or number of awards expected to increase as the scholarship fund grows over time. A Wichita Aero Club Scholarship Fund has been established with the Wichita Community Foundation, a 501 ( c ) 3 organization for the purpose of furthering the Wichita Aero Club's commitment to aviation-related education.
"We are launching this scholarship now to help stimulate interest in and support of aviation-related curricula at learning institutions and to provide, initially, some help in defraying a significant portion of one semester's expenses for the recipients," explained John O'Leary, vice president of Engineering at Airbus North America Engineering and Chairman of the WAC's Education Committee. "Our intent is to increase the amount of the awards as we grow the Scholarship Fund through contributions, proceeds from our fund-raising events, including our annual golf tournament and Gala, and emulate the commitment to education demonstrated by Ed Stimpson.
"Our plan is to accept scholarship applications through March 15 of next year for this first award and to announce the initial winner shortly thereafter. We will provide guidance on how to apply online, on our website, and through aviationrelated schools by facilitating the distribution of scholarship information through their networks. We hope to utilize a full range of communication channels to generate solid and continuing interest in this scholarship," he noted.
O'Leary also noted that Ed Stimpson, the long-time GAMA President and ICAO Ambassador was "a true friend of aviation education, and a former Board Member of Embry Riddle Aeronautical University. We have a branch of ERAU here in Wichita, located at McConnell Air Force Base and, even though, Ed was not from Wichita…or even the local region, his impact on general aviation and the many people who work in the Air Capital was significant. He, along with Russ Meyer at Cessna, helped spearhead the effort to pass the General Aviation Revitalization Act of 1994, which helped preserve or create many thousands of jobs.
"During the 1990's, when Ed was President of the General Aviation Manufacturers Association (GAMA), a post he held for 25 years, he was the face of General Aviation on Capitol Hill. A long time advocate and supporter of aviation education, he graduated from Harvard and earned a Masters in Public Administration from the University of Washington. He also served for years on the Board of Trustees at Embry-Riddle Aeronautical University, holding the position of chairman of the board for seven years. Ed began his career in aviation as the head of Congressional Affairs for the Federal Aviation Administration under the Kennedy Administration. In 1970, he became president of the newly formed General Aviation Manufacturers Association, quickly assuming a leadership role in the direction of nearly every significant aviation policy issue of the era, including the establishment of the Airport and Airways Trust Fund, the allocation of aviation fuel during an oil embargo, and a strike by the Professional Air Traffic Controllers Association. Following his tenure at GAMA, he was appointed by President Clinton to be the United States representative to the Council of the International Civil Aviation Organization (ICAO) in Montreal, with the rank of Ambassador. He retired from that position in 2005. Honoring Ed and his contributions to aviation and education by naming the Wichita Aero Club's annual scholarship is a fitting tribute to a true statesman and friend of all those who fly," O'Leary concluded.