Annual Wichita Aero Club Golf Classic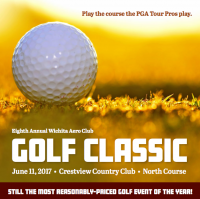 The Wichita Aero Club will host its annual Golf Classic on Sunday, June 11 2017. Please note the tournament is not on Father's Day this year! It's the week before Father's Day. That's because the PGA Tour's web.com Air Capital Classic's Final Round will be on Father's Day, June 18 in 2017!
Plan now to play in the WAC Golf Classic on the 11th and join us in the Ambassadors Hospitality Suite for the Air Capital Classic on the 18th for the tournament's final round!
Questions? Shoot an email over to [protected email address] and we'll get you straightened out. Don't worry, there's plenty of time to straighten our your drive, too! This year's tournament is sure to be fun, and possibly even rewarding, with longest putt, drive and closest-to-the-pin contests – not to mention a chance to win a new car.
The Wichita Aero Club Golf Classic gives you the opportunity to play on the same pristinely manicured course at Crestview Country Club that the pros will play on. You'll receive a new Nike golf shirt and other golf-related items at check-in, which begins at 10 AM, followed by a shotgun start at 11:30 AM.
We'll play an always enjoyable and competitive scramble format. The 7th and 17th Holes will offer refreshing breaks at margarita stands and there will be opportunities on the course for every golfer to win a new car with a hole in one on the Par 3 at Number 8, courtesy of Davis-Moore, and participate in earn a spot in the Scholarship Shootout—a fun contest that will not only offer a lucrative cash prize to the winner, but contribute an additional sum to the WAC Scholarship fund, as well. The qualifying round will take place as teams play #17 with the finalists taking part in the Shootout at # 18 during the 19th Hole Reception for a cash prize expected to be in the hundreds of dollars.
The afternoon will conclude at the newly expanded air conditioned suite behind the 18th green for the 19th Hole Awards Reception, which will also feature another outstanding barbecue.
Golf Classic Sponsorship Opportunities
Click here for updated information about the sponsorship opportunities available for the 2017 Annual Wichita Aero Club Golf Classic. Download the sponsorship reservation form and send it over to 12828 E. 13th Street North, Suite 1 in Wichita, KS 67230.
How to Register