Monthly Archives:
September 2016
David Franson
September 27, 2016
Career Connections Are Waiting For You At WAC.
If you have a passion for aviation and are wondering where to get started, you're in the right place! The Wichita Aero Club will inform, connect and empo
wer you straight to the career of your dreams. Aviation comes in all different shapes and sizes… and so do the Aero Club's members. We're individuals, big companies, small companies, old and young. But there's one thing we all have in common. We love this industry! And what do you know, we're lucky enough to live in the center of it all – the Air Capital of the World.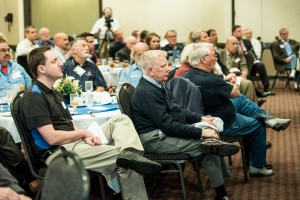 First of all, you should know that membership with the Wichita Aero Club gets you exclusive access to events and information. You want to network? Perfect. We host monthly luncheons where you can mingle, make incredible connections with those who have been in the industry for years, and listen to featured guests share their insights. We're even gearing up to host John and Martha King for our October luncheon at Crestview Country Club! Plus, we get really excited about things like local flight training education opportunities, and restoring the historical B-29 named Doc.
So you should definitely consider membership with the WAC. You won't regret it, and you'll make some lifelong friendships in the process. It's cost effective, too: individual membership is $100 per year. And if you're a student, it's only $35 per year! Want to convince your company to sign up? That's fantastic – we'd love to have you. Get more information here!
Before you go, we want to share one more thing. In addition to monthly events, we also offer yearly scholarships to help promote financial assistance to aviation-related institutions. So get in the mix, and maybe even get some extra cash to help make your aviation dreams come true.
If you want it to happen, so do we!
David Franson
September 12, 2016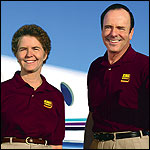 Wichita, KS—John and Martha King may be  among the most recognizable people in general aviation.  Literally millions of GA pilots have taken flight instruction from them.  They certainly are two flight instructors who have received more recognition—as in honors and awards—than any others, because their video flight training programs are not only exceptionally popular, they're also exceptionally good!  King School students start as beginners and can carry on until they become Air Transport Pilots or Certified Flight Instructors themselves.  John and Martha have helped more than half a million pilots reach their aviation goals and their courses are so effective that more than 98% of their customers pass their FAA exams on their first  try!  No wonder they're considered Flight Training "royalty."  Of course, having the surname "King" probably doesn't hurt either!  Whatever the reason, they're bona fide experts on what's happening when it comes to learning to fly—a subject that's always been an extremely important one in Wichita, where more flight training aircraft have been built than anywhere else in the world. Join Us for Lunch! On Thursday, October 6, 2016 at noon, John and Martha will address the Wichita Aero Club luncheon in the Tapestry Dining Room at the Crestview Country Club located at 1000 North 127th Street East, between 13th Street and Central Avenue. It will be the first time that the WAC has met at Crestview for a luncheon.  The Club is the site for the Aero Club's annual Golf Classic each June. "We're looking forward to hearing from the Kings on October 6," said Dave Franson, president of the Wichita Aero Club, "because they are literally the world's leaders in flight education. They have made pilot education available to the masses by putting their training seminars—which are exceptionally clear and easy to follow—on video and staying abreast of the technological advances and making those videos compatible with virtually all the multimedia devices. They are the first and only husband and wife to both hold every category and class of FAA pilot and instructor certificates.  That also means they know what is happening in the flight instruction marketplace—how it is changing and evolving. How simulation is affecting it; how the aging  fleet and the rising cost of new aircraft is impacting it. They certainly can offer some insight into the perceived future pilot  shortage as the number of military and civilian trained pilots declines and the industry faces the concept of UAVs and drones in a re-defined and re-regulated next generation airport and airspace environment. I'm not trying to put a lot of pressure on them to address a lot of difficult issues, but these are two people for whom I have tremendous respect and I'm really anxious to hear their insight into the future of flight training because it all starts there." The Wichita Aero Club luncheon will begin at noon at Crestview.  Ample parking is available at the Country Club, which is located approximately half a mile east of the intersection of 13th Street and K-96 in East Wichita. The main entrance to the site is midway between 13th Street and Central on 127th Street East.  Parking is available both to the north and south of the main Clubhouse. The luncheon is being held on the same day as the Economic Outlook Conference hosted by Wichita State University's Center for Economic Development and Business Research  (CEDBR) at Century II, which will also feature an aerospace panel  consisting of Teal Group Analyst Richard Aboulafia, WAC Member and Cox Machine President, Jason Cox and WAC President Dave Franson.  The EOC Aerospace event will conclude before the mid-morning break and the entire conference will end at 11:30 AM.  Attendees of the EOC who wish to attend the WAC luncheon will be offered the WAC member discount of 25% simply by showing their name badge or ticket at the door. Cost of the WAC luncheon is $40 for non-members, $30 for members. Tickets may be purchased at the door or on-line at www.wichitaaeroclub.org using Pay Pal or credit card.
Questions? Call us at 316.641.5962 or 316.665.2699.