Monthly Archives:
May 2016
Ashley Bowen Cook
May 11, 2016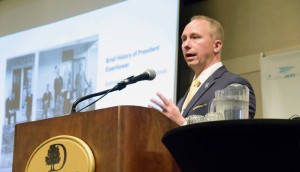 Sixty days into his new position as Director of Aviation for the Kansas Department of Transportation, Merrill Atwater took time to share his vision for the days ahead. In his address at the May meeting of the Wichita Aero Club, Atwater touched on his priorities. Chiefly: to serve as a champion of aviation.
Aviation's fiscal impact on the state amounts to $13.5 billion or 10 percent of its economy. Atwater wants to ensure that business owners, entrepreneurs and manufacturers know that, "Kansas is here for you." He sees his role, his department's and indeed the state's as one of support to advance growth and industry improvements. "We're here to help you. We're a tool."
It's also a financial resource. The state's airport improvement program provides matching grants to the state's 138 public-use airports. To date, a sweet $90 million has been distributed. Funding everything from paved runways to needed equipment accomplishes many objectives. Economic stimulation. An inviting front door for business. One key goal is greater access to air ambulance services. Atwater's working to see that 94 percent of Kansas can be reached within 30 minutes. No small feat considering Kansas's expansive rural landscape.
During the post-presentation question-and-answer session, Atwater razzed Victor White, director of the state's largest airport, Wichita Eisenhower National. "Victor doesn't need our money," said Atwater, referring to the airport's stunning new terminal, parking garage and other improvements that have led to its ranking as the nation's fourth-best small airport. White gamely shouted back, "Yeah we do!"
A Truly Great Great-Granddaddy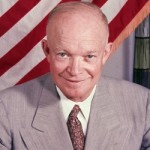 Atwater spent a good portion of his presentation talking about his great grandfather, the 34th president of the United States, Dwight D. Eisenhower. He's rightfully proud of Eisenhower's accomplishments and his Kansas connections.
He was born in 1890, well before the Wright brothers' history c flight. But aviation played a major role in his legendary life. As WWII Supreme Allied Commander in Europe, he had final say on how to use thousands of warplanes (mostly built in Kansas). He was the first president to have his pilot's license. (He didn't have a driver's license.) The first to ride in a helicopter. The first to fly in the jet called Air Force One. He passed the law that led to the creation of the Federal Aviation Administration. He propelled the world into the space age by establishing the National Aeronautics and Space Administration (NASA). President Eisenhower grew up in Abilene, Kansas, but he lived his life on the world stage. Fighting for peace. Laying the groundwork for innovation. We like Ike.
Buzz for Unmanned Aerial Systems
Atwater reminded the audience that his department's conducting a search for a director of unmanned aerial systems. It's an industry poised for growth, he said, with projections calling for $2.9 billion in applications by 2025. He acknowledged there are issues, but communicated confidence that they will get worked out, especially with support. He looked around and said, "We need everybody in this room to participate."
"Kansas is open for business in aviation."