Monthly Archives:
October 2018
Wichita Aero Club
October 12, 2018
Aviation, the nation, and the world suffered a significant loss on Wednesday with the passing of Bruce Whitman, Chairman, President and CEO of FlightSafety International. Through all of his 85 years he was an example and asset to all those with whom he came in contact…and they were many.
Bruce spent virtually his entire career, which spanned over 60 years, with one company—FlightSafety, International. He used to joke that he had only one promotion during that tenure, and it took 43 years to get it! That's because he became the "right hand man" to the firm's founder, Al Ueltschi, very early in his tenure and only moved up after Mr. Ueltschi passed away in 2003. It's tough to get promoted when you're #2 to the company's founder, who worked until he was 96. There just aren't a lot of jobs to choose from in that situation!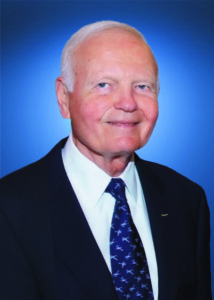 Bruce Whitman spent his life minding his "P's and Q's." He was 
Precocious, Persistent, Patriotic, Powerful…and Polite. No one in business aviation was ever nicer, more deferential or sensitive to the people with whom he worked than Bruce.  He treated us all the same—extremely well. The number of people who can rightly call him their "friend" is legion, and he really did care about all of us. If you look up "gentleman" in the dictionary his picture may not be there, but the definition is his biography!
Bruce must have always been precocious because he succeeded at everything he did…and ended up holding important positions of leadership as a student, Air Force officer, and businessman. As a 24 year old he managed to earn ratings as an Air Force pilot, navigator and bombardier and capped that off by being appointed Assistant to the Commander of Homestead Air Force Base. It's obvious it never took long for Bruce's talent and acumen to get noticed.
His persistence carried over from his time as an athlete, student and serviceman to his professional career. After a brief stint as an executive at NBAA, he began his tenure with FlightSafety in 1961. Even though it was already impressive, he never had to update his resume again. He and FlightSafety were inseparable. After Mr. Ueltschi died, Bruce and FSI became synonymous. His grace, strength of character and leadership characterize the organization he led for the past 25 years.
When the persistent Mr. Whitman got involved in something, he made it his mission to ensure its success. A look at the long list of organizations he served as a board member, chairman or advisor underscores his dedication and leadership. An obvious example—one of many—is his chairmanship of the Congressional Medal of Honor Foundation. Bruce's patriotism, exhibited by his own service in both the Merchant Marine and the Air Force, was a driving force in leading the Foundation's initiatives in Character Development, scholarship programs, exhibits and multimedia projects aimed at increasing awareness of the Medal of Honor and what it represents.
Bruce would probably shy away from the term "powerful" as a description of him, but he certainly possessed a powerful intellect, a potent influence on others, and highly effective ability to negotiate and implement his initiatives. He was deferential to a fault and demonstrated genuine humility, but he was deservedly respected for his leadership and unwavering example.
Bruce Whitman definitely embodied those five "P's". But he didn't ignore the "Q" when it came to "minding his P's and Q's." Bruce lived a life of Quality. He leaves a legacy of quality in the way he dealt with others, in the level of work he performed and in the example he provided to those he befriended and mentored.
In a world that is increasingly political, he was polite. While confusion reigns regarding this country's place in the world, he was patriotic. Where change for the sake of change is perceived as the path to success, he was loyal and persistent. As impatience for advancement has become rampant, his precocious talent proved to be especially valuable to every organization he served, and where power at all costs has become a goal, Bruce's powerful presence and personal humility offer a far better example of true success. His was a Quality life and it improved the quality of all the lives he touched, as well.
Wichita Aero Club
October 3, 2018
Final bill includes Sen. Moran's provisions to close aviation skills gap, recruit women in Aviation, strengthen the FCT program, protect small and mid-sized airports and increase fairness for general aviation projects   
WASHINGTON – U.S. Senator Jerry Moran (R-Kan.) – member of the Senate Committee on Commerce, Science, and Transportation; member of the Aviation Operations, Safety and Security Subcommittee; and co-chair of the Senate Aerospace Caucus – today applauded the passage of the FAA Reauthorization Act of 2018, H.R. 302, by a 93-6 vote in the Senate. This legislation will provide critical reforms and a five-year extension to the Federal Aviation Administration's (FAA) authority. Last week, the House of Representatives passed this legislation on a vote of 398-23. The bill will now go to President Trump's desk for signature, making this five-year authorization the longest enacted since 1982. Keep reading >