Monthly Archives:
June 2013
David Franson
June 4, 2013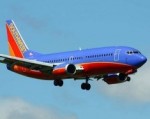 Southwest Airlines, the world's most profitable and proficient airline, has inaugurated service to Wichita, Kansas…and the Air Capital of the World couldn't be more enthusiastic. With fivedaily flights (2 to Dallas Love Field, 2 to Chicago Midway, and one to Las Vegas), Southwest has given Wichita travelers more than 500 itineraries from which to choose along its vas
t national network. The three Air Tran Airways daily flights to Atlanta that Southwest has replaced offered 180 different destinations. Southwest also flies 143-seat Boeing 737s–their fuselages are manufactured in Wichita by Spirit AeroSystems–with compared to the 117 seat Boeing 717s previously flown by Air Tran, so the number of available passenger spaces has been increased by a factor of two each day, as well.
Not only does Southwest offer exceptional service, it doesn't charge for bags, special seating, or even change fees when fliers find their plans need to be modified to take a different flight. That's bound to be a big plus for business and leisure travelers, alike. It also makes Wichita the departure and return location of choice among thousands of Kansans who have previously traveled to Kansas City, Missouri or Oklahoma City, Oklahoma to take advantage of Southwest's network and pricing. As Ron Ricks, Executive Vice President for the airline said at the June 3 Wichita Aero Club luncheon following the opening of service to Wichita, SWA's entry into Wichita means more low fares to more destinations but, "we're counting on [the local traveling population] to act in your self-interest. If Southwest isn't in the market, you'll pay higher air fare. If you buy, we'll fly, if you don't, we won't!"
Southwest is a great partner for Wichita and should be a great asset to the community and the state. It's the only one of the country's five largest airlines that hasn't gone through bankruptcy. It's the only one to have 40 consecutive years of profits, and the only one not to have across-the-board employee furloughs or cuts to employee benefits or wages. It's also the only airline to have an investment-grade credit rating and it consistently scores at or near the top in customer-service rankings. It's no wonder Wichita has worked for most of the past three decades to attract Southwest Airlines to serve this community. Now, it's up to all of us who fly to keep them here!