Monthly Archives:
May 2013
David Franson
May 23, 2013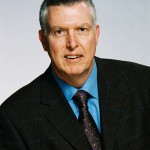 Ron Ricks has been with Herb Kelleher at Southwest Airlines since the beginning…or awfully close to it! As a result, he probably knows more about the airline than anyone besides Herb. Southwest will begin service in Wichita on June 2–one day before Mr. Ricks addresses the Wichita Aero Club Luncheon at the Hilton Doubletree Hotel on Monday, June 3.  Not only will the event be an extension of the "celebration" of Southwest's service inauguration, it's likely to be one of the most interesting presentations of the year.
Mr. Ricks is the Executive Vice President—Chief Legal and Regulatory Officer at Southwest Airlines in Dallas, Texas. Before joining Southwest Airlines, he was a partner in the San Antonio law firm founded by Herb Kelleher, where Ron worked extensively on the Southwest Airlines' account. All together, Ron has represented Southwest since 1981.
His current responsibilities include oversight of the following corporate departments: General Counsel (Legal); Properties (corporate
real estate and airport relationships); and Governmental and Public Affairs; In addition, Ron is closely involved with all aspects of labor law issues as they pertain to Southwest's relationships with its largely unionized work force.
As Chief Legal and Regulatory Officer, Ron serves as a liaison to Southwest's Board of Directors with respect to the corporate governance, legal, and regulatory compliance aspects of the Board's duties.
Presently, Ron serves on the Advisory Committee to the Center for Advanced Aviation System Development at the MITRE Corporation which leads the research and development effort on behalf of the federal government to modernize the nation's air traffic control system. He also is a member of the Hospital Advisory Board for Methodist Dallas Medical Center, which was founded in 1927 and today is one of the largest medical facilities in the Dallas Metropolitan area.
A graduate of the University of Texas at Austin, he earned a law degree from George Washington University, in Washington, D.C.
The Wichita Aero Club was established in 2008 to foster and promote interest in aviation, provide a forum focused on the industry's issues and achievements and bring together those with a passion for flight in an environment that expands and enhances professional relationships and furthers cooperation and understanding.
WAC Luncheons are available for $40 for non-members and $30 for members. Reservations can be made on line at the Aero Club's website, www.wichitaaeroclub.org , or by callingl 316-681-4471.