Monthly Archives:
January 2015
David Franson
January 28, 2015
Aircraft Electronics Association President Paula Derks will serve as the featured speaker at the Wichita Aero Club's monthly luncheon scheduled for 11:45 a.m. CST on Tuesday,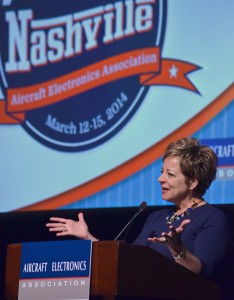 Feb. 17 at the DoubleTree by Hilton in Wichita, Kansas. During her remarks, Derks is expected to discuss the ADS-B Out equipment mandate and the industry's readiness to meet the Jan. 1, 2020, deadline set by the Federal Aviation Administration several years ago. ADSB stands for Automatic Dependent Surveilance-Broadcast technology by which an aircraft determines its position utilizing satellite navigation and periodically transmits it so that it can be tracked by air traffic control. It can also be received by other aircraft to provide situational awareness and allow them to maintain safe separation distances. ADSB equipment is already mandatory in portions of Australian airspace and it's part of the US Next Generation Air Transportation System, commonly referred to as "Next Gen" and the Single European Sky ATM Research or (SESAR) requirements. "In Wichita, we have a lot of people who can provide in-depth expertise on just about anything that has to do with the airframe side of commercial aviation because we're immersed in the production and operation of airplanes," explained Wichita Aero Club President Dave Franson. "But the technology and regulation on the avionics and electronics side of the industry has been advancing at an extraordinary pace and keeping up with the developments, operating environment and mandates that effect that segment is a daunting task. We're fortunate to have Paula here to give us some insight into what's happening in this important arena."
AEA will host its annual convention in Dallas in April, as well, bringing together the industry's leading manufacturers and experts on operators
The Wichita Aero Club was established to foster and promote interest in aviation, to provide a forum that focuses on the industry's issues and achievements, and to bring together those with a passion for flight in an environment that expands and enhances professional relationships and furthers cooperation and understanding. Tickets for the Feb. 17 luncheon may be purchased online via the Wichita Aero Club website.