Monthly Archives:
July 2016
David Franson
July 20, 2016
Wichita Restoration Effort Celebrates With Short Flight on July 17.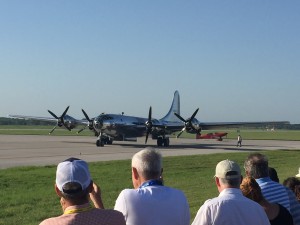 At approximately 8:50 AM CDT on Sunday morning, the worldwide fleet of flyable B-29s doubled when "Doc" lifted off from McConnell Air Force Base in Wichita, Kansas culminating a restoration project that began sixteen years ago at the factory where the airplane was built initially in 1944.  Piloted by the Commemorative Air Force's Charlie Tilghman and co-pilot David Oliver. , "Doc" joined "Fifi" as the only two Superfortresses of the 3,888 produced  between 1943 and 1946 which are airworthy.  "Doc" returned to the air 60 years after its last flight in 1956 when it was ferried to China Lake in California, decommissioned and hauled into the desert where it was used as a target for Naval bomber training until 1987 when Cleveland, Ohio printing executive Tony Mazzolini discovered it, largely in tact, acquired it and moved it to Wichita.  
I Never Thought I'd See the Day…
Mazzolini, members of DOC's Friends, a non-profit group formed to raise funds to support the airplane's restoration and dozens of the  volunteers who began restoring the airplane in 1991 were joined by hundreds of onlookers early on July 17, including Wichita Mayor Jeff Longwell and Kansas Fourth District Congressman Mike Pompeo, to witness the takeoff.  The airplane completed high speed taxi tests on Saturday evening at around 8 PM in preparation for the first flight.
The flight itself lasted approximately 10 minutes, encompassing one takeoff, climb out to pattern altitude, and a return and landing.  The crew chose to land after circling the field when a precautionary light illuminated, but the short duration of the flight didn't dampen the enthusiasm of the crowd or their positive outlook.
"I never thought I'd see this day when we started restoring this airplane 16 years ago," said Connie Palacioz, who at 92 years of age, remembers working on serial number 46972 when it came down the assembly line the first time in 1944.
"I prayed for good weather and a good flight when I woke up this morning.  I just don't have words to describe how I felt when I saw it in the air.  It was wonderful…but a little bit sad, too, because of the volunteers who worked on it that have passed without getting to see this."
The Town's Talking About Doc… 
Wichita's Mayor called the event "a Wright Brothers moment for Wichita, and even though the flight wasn't as long as we had hoped, it was still longer than their first flight!  It was a perfectly fitting event for the 'Air Capital of the World.'  'Doc' now serves to unify our community and to demonstrate that we can come together and our visions can take flight. Let's continue to work hard to keep 'Doc' in our community.  We think it's important to our rich history and we want make sure that future generations of Wichitans have a chance to see 'Doc' fly."
"This is truly a remarkable example of the dedication and commitment by the community to honor our American Servicemen and women and and our long tradition of flight in Wichita. Its an achievement that we can be proud of for decades," added Congressman Pompeo.
Tony Mazzolini summed up the celebration by saying, "This restoration has always been aimed at wanting to honor our veterans,  to honor those who worked on these airplanes on the home front and  to honor those who sacrificed so much for the cause of freedom and the American way of life.   I just want to say 'Thanks' to all of the people who made this event today possible!'
David Franson
July 1, 2016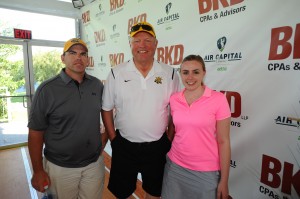 Check out the summary below and photos in the Gallery under 2016 WAC Golf Classic.
The seventh annual Wichita Aero Club Golf Tourney was a memorable event with highlights that included great weather, great conditions, some great shots, the "Money Ball," and a grateful scholarship recipient that greeted golfers who took their turns trying to win a brand new car! Accompanied by her father, Patrick, on Fathers Day, Talon Wanless, a senior at Wichita State University and one of two Wichita Aero Club Scholarship recipients for 2016, had the opportunity to personally thank the nearly 100 golfers who participated in this year's WAC Golf Classic at Crestview Country Club as we kicked off a week of golf festivities that culminated in the 27th rendering of the PGA Tour's annual championship event in Wichita, appropriately known as the web.com's Air Capital Classic since 2012.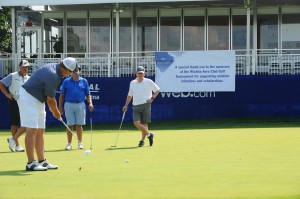 The tournament not only raised significant funds for the WAC Scholarship fund, it also allowed the Aero Club to contribute support to two of our members, Robin Laws and Tessa Roberts, who flew in the annual Women's Air Race Classic last week! We plan to honor our scholarship winners, Talon Wanless and Zavier Luciano and Robin and Tessa at a later date this summer.  Zavier, who's enrolled in A&P classes at Wichita Area Technical College, wasn't able to make it to the WAC Golf Classic, but he's carrying a 4.0 GPA into the current semester and expressed his gratitude for the generosity of the golfers who added to the Stimpson and Humphrey scholarship funds.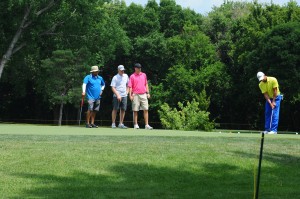 Nearly $1,000 in additional contributions were raised on the day of the event by teams who purchased a "Money Ball" for $50 at the start of play–good for a "Mulligan" on any shot throughout the round.  It was used to good advantage, as the winning team carded an impressive round of 53, 19 strokes under par!  The "Money Ball" helped each member of the winning team win a $100 gift certificate at the Golf Warehouse for their outstanding play.
Meanwhile, we also did our part to support Wichita's annual professional golf—and charitable event. One of only four tournaments on the PGA Tour web.com's circuit that has been played in the same city continually over the past quarter century, the Wichita event boasts the Best Pro-Am, as voted by the players, and probably the most popular single hole on the tour, the raucous and rowdy 17th with its double-decker stadium seating, enthusiastic crowds, and great golf shots.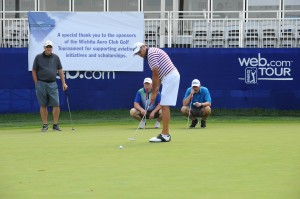 To say it was a "hot ticket" this year would be an understatement! Not only were the temperatures throughout the tournament hot, so was the calibre of play as the outcome came down to a three-way playoff that saw the leaders return to the 17th for a fifth time—for a playoff—and then settle the issue with a scintillating finish and a long birdie putt on the 74th hole that gave the win to Ollie Schiederjans. The Air Capital Classic generates significant funds for a variety of charities each year—including contributing to our educational initiatives, too!