Wichita Restoration Effort Celebrates With Short Flight on July 17.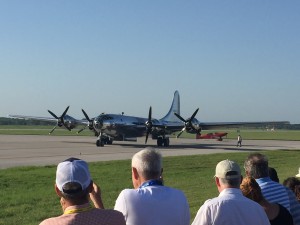 At approximately 8:50 AM CDT on Sunday morning, the worldwide fleet of flyable B-29s doubled when "Doc" lifted off from McConnell Air Force Base in Wichita, Kansas culminating a restoration project that began sixteen years ago at the factory where the airplane was built initially in 1944.  Piloted by the Commemorative Air Force's Charlie Tilghman and co-pilot David Oliver. , "Doc" joined "Fifi" as the only two Superfortresses of the 3,888 produced  between 1943 and 1946 which are airworthy.  "Doc" returned to the air 60 years after its last flight in 1956 when it was ferried to China Lake in California, decommissioned and hauled into the desert where it was used as a target for Naval bomber training until 1987 when Cleveland, Ohio printing executive Tony Mazzolini discovered it, largely in tact, acquired it and moved it to Wichita.  
I Never Thought I'd See the Day…
Mazzolini, members of DOC's Friends, a non-profit group formed to raise funds to support the airplane's restoration and dozens of the  volunteers who began restoring the airplane in 1991 were joined by hundreds of onlookers early on July 17, including Wichita Mayor Jeff Longwell and Kansas Fourth District Congressman Mike Pompeo, to witness the takeoff.  The airplane completed high speed taxi tests on Saturday evening at around 8 PM in preparation for the first flight.
The flight itself lasted approximately 10 minutes, encompassing one takeoff, climb out to pattern altitude, and a return and landing.  The crew chose to land after circling the field when a precautionary light illuminated, but the short duration of the flight didn't dampen the enthusiasm of the crowd or their positive outlook.
"I never thought I'd see this day when we started restoring this airplane 16 years ago," said Connie Palacioz, who at 92 years of age, remembers working on serial number 46972 when it came down the assembly line the first time in 1944.
"I prayed for good weather and a good flight when I woke up this morning.  I just don't have words to describe how I felt when I saw it in the air.  It was wonderful…but a little bit sad, too, because of the volunteers who worked on it that have passed without getting to see this."
The Town's Talking About Doc… 
Wichita's Mayor called the event "a Wright Brothers moment for Wichita, and even though the flight wasn't as long as we had hoped, it was still longer than their first flight!  It was a perfectly fitting event for the 'Air Capital of the World.'  'Doc' now serves to unify our community and to demonstrate that we can come together and our visions can take flight. Let's continue to work hard to keep 'Doc' in our community.  We think it's important to our rich history and we want make sure that future generations of Wichitans have a chance to see 'Doc' fly."
"This is truly a remarkable example of the dedication and commitment by the community to honor our American Servicemen and women and and our long tradition of flight in Wichita. Its an achievement that we can be proud of for decades," added Congressman Pompeo.
Tony Mazzolini summed up the celebration by saying, "This restoration has always been aimed at wanting to honor our veterans,  to honor those who worked on these airplanes on the home front and  to honor those who sacrificed so much for the cause of freedom and the American way of life.   I just want to say 'Thanks' to all of the people who made this event today possible!'