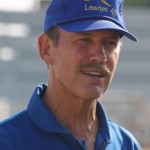 The Wichita Aero Club will team with the Kansas Aviation Museum (KAM) to host a special event surrounding the induction of Pete Reynolds, former Bombardier test pilot, on the evening of Tuesday, April 15. The event, scheduled from 5:30 PM until 7:30 PM will take place at the Kansas Aviation Museum, 3350 S. George Washington Boulevard in Wichita. It will include a reception followed by the induction of Mr. Reynolds into the Kansas Aviation Hall of Fame, which is housed in the KAM facility. The no-cost event is open to the public.
"This event is being held to provide the local community with the opportunity to experience some aviation history first hand and honor a local figure who helped make it," said Dave Franson, president of the Wichita Aero Club. "We're very pleased to be collaborating with the Kansas Aviation Museum to host this reception and induction ceremony for Pete Reynolds, who participated in the establishment of so many Learjet milestones during his long career as a test pilot. Pete epitomizes the vision and courage that all of us in the industry assign to test pilots. He's a terrific pilot who flew numerous first flights and also established a number of time-to-climb and performance records with Neil Armstrong, the first man on the moon. We hope lots of Pete's friends and colleagues will be able to join us for this occasion at the Musuem.
"This event is part of the WAC's efforts to expand our activities and include more members of the aviation and local community. We're also hoping to encourage more support and involvement in the Aero Club and the Kansas Aviation Museum through this effort, as well," Franson concluded.
Pete Reynolds had a major role in the development, testing and certification of virtually every Learjet model for more than 3 decades. A decorated Air Force pilot in the 1970s, he joined Learjet in 1973. He spent the last eight years of his tenure with Bombardier Aerospace as the Vice President of Flight Test, during which he was responsible for managing 500 employees and all flight tests conducted on Canadair, deHavilland and Learjet products. He is a fellow of the Society of Experimental Test Pilots (SETP) and, in 1999, received the organization's prestigious J.H. Doolittle Award for outstanding accomplishments in aerospace engineering and technical management. He flew eight first flights (on virtually every Learjet Model from the 24E to the 40) and holds numerous FAI World Records. Five of those were set with Neil Armstrong in Learjet 28-001 on February 19 and 20, 1979 for time to climb, altitude, and altitude in horizontal flight. He has flown more than 12,000 hours and was a 1992 Kansas Governor's Aviation Honors recipient.