Category Archives:
Luncheon Recap
Wichita Aero Club
October 9, 2017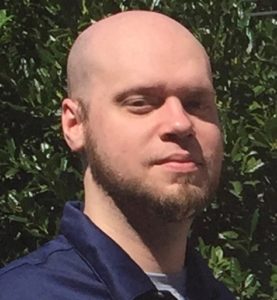 by Nate Franson  
                       
Held at the Hereford House in Andover, KS, the breakfast was sponsored by GlobalParts.aero and was the opening session of their annual day-long employee retreat. Attending at the invitation of the Aero Club, members of the Cessna 190/195 Owners Association who had flown more than 40 of the vintage Cessna single engine airplanes to nearby Stearman Field for their annual Fly-In, joined Aero Club members and GlobalParts employees for a breakfast buffet, meet-and-greet, and a brief update and welcome message by Aero Club President Dave Franson before being treated to Connie Podesta's monologue on the importance of  recognizing and effectively leveraging differences in personality and preference when it comes to successfully getting along.
After teasing a 300-slide PowerPoint marathon, Podesta pivoted into her actual presentation, wherein she encouraged attendees to draw four shapes in the air – square, circle, triangle, and "squiggle" – before choosing the one with which they most identify. She then prompted each "shape-group" to stand and be recognized in turn, while offering humorous insight into basic personality traits that each group typically exhibits.
It's impossible to do justice to Ms. Podesta's witty repartee during this very active, audience participation segment of her engaging, hour-long opening segment but she basically stated that:  Squares tended to be "square",  rigid, organized and straightforward. Triangles were likewise typically straightforward, driven and tending toward perfectionism. Circles were the gregarious pleasers, talkative types, while squiggles were the more wild, creative and authority-bucking mavericks. Or, at least, that's the way Connie described them—and as it turned out, she seemed to possess an uncanny seventh sense that made it tough to argue with her!
The main thrust of such an exercise was to open up dialogue about how different personalities relate to one another and to inspire more effective collaboration between potentially disparate points of view. While such a presentation may eschew the familiar industry-focused discussion of most Aero Club speakers, it served as a welcome and important reminder that regardless of our roles and responsibilities in the aviation community, as professionals we must always seek to understand and overcome our potential differences with colleagues, collaborators, and clients. Fortunately, Podesta was able to do this all in humorous fashion and made for a highly entertaining event. (As an aside,  I couldn't help but think how her well-supported characterizations of the various types would make for an extremely interesting Cockpit Resource Management session at the next Safety Standdown…especially when you add in her dry humorous descriptions.)
The vintage Cessna 190/195 flyers and their families and friends who made the trip to Wichita for the weekend helped balloon the crowd for the Aero Club/ GlobalParts.aero Employee Retreat Breakfast to nearly 180 people. While the GlobalParts team stayed around for more of Connie Podesta's wise  counsel, the Fly-in visitors and some of their Aero Club hosts returned to Stearman Field in Benton where the array of 60+ year old shiny Cessna single engine airplanes lined the runway for nearly half of its length. The full cantilever wing, conventional gear, radial engine aircraft were built in Wichita by Cessna from 1947 until 1954 and served as "Businessliners" and in the U.S. Air Force, the U.S. Army and the Army National Guard.  Several of the visitors sported military paint schemes and designations. (See pix).
The November Aero Club luncheon is currently being finalized, with details to be announced at a later date. The next scheduled event is the annual On-Air Summit, December 12, at 11:30 AM.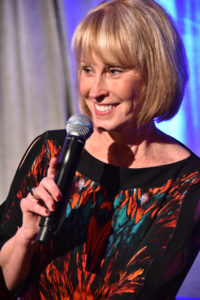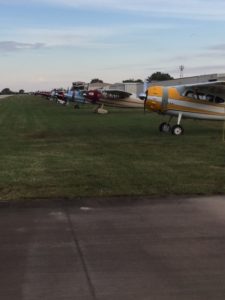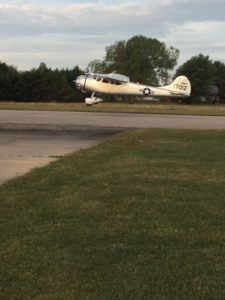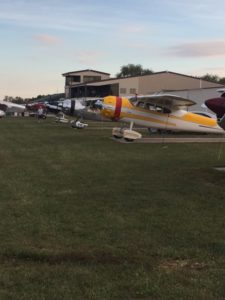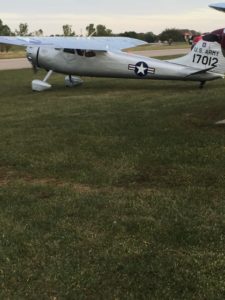 Wichita Aero Club
February 2, 2017
People in business aviation are so lucky. Not only do they get to manufacture, market, sell and fly amazing aircraft; they get to work with some of the best people on the planet.
The Wichita Aero Club gala is always a special evening for the Air Capital of the World. We come together to celebrate a member of our community who's truly left a mark on the aviation industry. I was beaming with pride last Saturday evening as my dad, world-renowned aviation photographer, Paul Bowen, received the honor.
Since 1972, he has been producing the world's most creative, memorable and enduring air-to-air images. His long list of accolades includes the San Diego Air & Space Museum International Hall of Fame, Flying Magazine's 51 Heroes of Aviation, Kansas Aviation Hall of Fame, and Canon's Explorers of Light. He has been part of more than 1,000 magazine covers and ad campaigns.
Naturally, it's wonderful to see your dad singled out for recognition. As he gave the narrative of his career using his images, he started off by saying:
"When I go to a concert, my favorite part is when the artist tells stories so you leave knowing them and their music better. So that's what I'm going to do tonight." Keep reading >
David Franson
October 10, 2016
Thank you, Kings!
by Grant Boyd: Wichita Aero Club Intern, WSU Sophomore
"We landed the aircraft and there were sirens and lights going on behind us while the cops told the pilot to open the door slowly and put their hands up." Now this evokes quite an image in my head. What exactly did this pilot do to receive such a warm welcome? While they never said specifically what they did to get such attention, it was not for anything bad. If it had been these folks would not be the aviation leaders that they are today. The perpetrators in question were John and Martha King. Now if you are a pilot, I am sure this name rings a bell. Well, if it doesn't-it should.
Why should it? It should because they have taught almost half of all pilots how to fly. Their successful courses (and last name) have led to them fittingly being labeled Flight Instruction Royalty. As in flying, the King's never stop learning. They are on a constant quest of knowledge which they then pass along to their customers. Not only do they seek knowledge, they "make" knowledge. They are active in partnering with the FAA in making new programs that allow for safer operation of general aviation aircraft. Their hope in making safety a priority and reducing the number of accidents in general aviation is that more people will come around to aviation.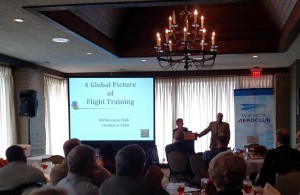 Along with the future oriented mindset of increasing safety, The Kings also talked about other trends in the industry. One such of these being the drone industry. After only eight months of drones requiring to be registered by the government, they almost outnumber the amount of registered manned aircraft by 100%. That is large amount, but the number will only rise in coming years. The expectation is that there will be millions of drones sold next year and that has interesting consequences for manned pilots and the industry as a whole. Although they agreed that there may be a divide between manned and unmanned pilots, The Kings said that manned pilots need to welcome drone operators into their community. They said by doing that, even in small numbers, they will reduce the pilot shortage in America; which is a very big problem.
The pilot shortage in America was a big topic discussed by The Kings and it is obviously something near and dear to their heart, being pilots and leaders in the industry. They brought up other ideas to bring in new pilots. They compared how the United States certifies pilots versus certification standards in other countries. There are pros and cons on how other countries do their pilot training and certification. There was a lot to consider in their rules and how we can apply them to the United States to garner more pilots in the industry.
There are a lot of problems facing the aviation industry currently. From drones to Airmen Certification Standards, The Kings talked about the issues. They are playing an active role in finding solutions, as well. It was a pleasure to have Flight Instruction Royalty come and speak to the Wichita Aero Club.