Tag Archives:
Yingling Aviation
Wichita Aero Club
October 11, 2017
The eighth annual Wichita Aero Club Trophy will be presented to a Chief Executive Officer who led the revival of a virtually dormant business to impressive levels of success—even during an industry-wide recession—and to his team of employees at Yingling Aviation, which currently holds a well-deserved reputation as one of the nation's leading fixed base operations, maintenance, repair and overhaul facilities and parts suppliers.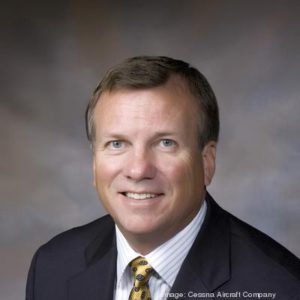 "Yingling is definitely a familiar name to Cessna owners all over the world and, of course, in more recent days to Beechcraft and other aircraft operators," noted Dave Franson, Wichita Aero Club President. "They were actually the first Cessna dealers and celebrated their 70th anniversary in 2016 and they're still the largest Cessna parts supplier in the world. But all of that history might have been lost if Lynn Nichols hadn't rescued what had become a floundering enterprise by 1999. He brought his exceptional energy, business acumen, a sense of direction and proven principles that had an obvious, positive impact and have allowed Yingling to grow and develop new opportunities even during  a difficult period for general and business aviation."
The citation which accompanied Mr. Nichols' and Yingling's nomination reads:
For providing exceptional services, exemplary business practices, job-generating initiatives and creative alternatives that advance both the industry and the community, Lynn Nichols and Yingling Aviation have achieved notable success during a difficult business cycle for general and business aviation and are deserving of the Wichita Aero Club Trophy.
The nomination stated that Nichols literally "rescued" Yingling from imminent closure and has brought it to the point that it is now one of the industry's leading FBOs, maintenance and service facilities, and the "go-to" destination for a broad range of products and services, ranging from interior modifications, to aircraft overhauls, to propeller services to AOG parts.
It went on to note that "Yingling continues to add solutions to the industry's major challenges, developing new maintenance procedures and programs that extend the lives of legacy aircraft to introducing affordable remanufactured airplanes that make it possible for flight schools flying clubs and individuals to pursue additional training and a new generation of student pilots. Yingling gained unparalleled experience maintaining Cessna's line of propeller-driven aircraft, which ranged from the early two-place Model 120s and 140s all the way to the turboprop Caravans and Conquests during its seven decades as one of the world's leading service facilities for the entire line of Cessna products. In 2015, it also became an authorized service center for Beechcraft propeller driven airplanes. The addition of the Bonanza and Baron products came as no surprise, since Yingling has, throughout its history, been involved in a continual expansion of its services and has grown its capacity and capabilities in engine, airframe, avionics, propeller and parts support to compliment the strong background and reputation it developed as leaders in interior modifications. The company previously grew that enterprise to include other than Cessna products, so the Textron Aviation acquisition was a logical opportunity to extend their industry leading maintenance and service capabilities to cover Beechcraft's line of piston propeller driven aircraft, as well."
Yingling is an FAA and EASA Approved Part 145 repair station. It is a factory authorized  service provider for Avidyne, Bendix/King, Chelton, Garmin, Honeywell, L3, NAT, PS Engineering, Rockwell Collins, Sandel and Genesys Aerosystems avionics and operates McCauley, MT Propeller and Sensenich factory authorized prop shops. The facility, located on Wichita's Dwight D. Eisenhower National Airport, also offers one of the country's most popular pilot shops, the Aviator's Attic, a source for just about everything a pilot needs, including aviation-related gifts, training manuals, books, handheld avionics, and apparel and is home to a Subway Cafe, too.
Lynn Nichols continues to grow Yingling's business while also serving the community. He is a past chairman of the Wichita Chamber of Commerce and serves on the boards of several local business and charities, including DOC's FRIENDS, the group involved with the restoration, return to flight and finding a permanent hangar and home for the Wichita-built B-29.
"Lynn's long-time service and commitment to the community of Wichita, his leadership in the aviation industry, and his noteworthy and ongoing success make him a highly deserving candidate for the Wichita Aero Club trophy,"  stated Jeff Peier, Chairman of the Wichita Aero Club Board. The Trophy will be awarded to Mr. Nichols in January, 2018. Details of the event will be announced in the near future.
Previous winners of the Wichita Aero Club Trophy are:
Velma Wallace 2011
Jeff Turner, Spirit AeroSystems 2012
John O'Leary, Airbus Americas 2013
Russell W. Meyer, Jr. 2014
Al Higdon, 2015
DOC's Friends Volunteers, 2016
Paul Bowen, 2017
Established in 2008 to foster and promote interest in aviation and provide a forum focused on the industry's issues and achievements, the Wichita Aero Club brings those with a passion for flight together in an environment that expands and enhances professional relationships and furthers cooperation and understanding.
The WAC Trophy is awarded annually to a living person, group or existing organization with a strong relationship to the greater Wichita area who have distinguished themselves in the field of aviation or aerospace within the most recent calendar year or during a cumulative career of significant achievement and contribution.