Tag Archives:
Ashley Bowen Cook
Wichita Aero Club
February 2, 2017
People in business aviation are so lucky. Not only do they get to manufacture, market, sell and fly amazing aircraft; they get to work with some of the best people on the planet.
The Wichita Aero Club gala is always a special evening for the Air Capital of the World. We come together to celebrate a member of our community who's truly left a mark on the aviation industry. I was beaming with pride last Saturday evening as my dad, world-renowned aviation photographer, Paul Bowen, received the honor.
Since 1972, he has been producing the world's most creative, memorable and enduring air-to-air images. His long list of accolades includes the San Diego Air & Space Museum International Hall of Fame, Flying Magazine's 51 Heroes of Aviation, Kansas Aviation Hall of Fame, and Canon's Explorers of Light. He has been part of more than 1,000 magazine covers and ad campaigns.
Naturally, it's wonderful to see your dad singled out for recognition. As he gave the narrative of his career using his images, he started off by saying:
"When I go to a concert, my favorite part is when the artist tells stories so you leave knowing them and their music better. So that's what I'm going to do tonight." Keep reading >
Wichita Aero Club
January 8, 2017
Special thanks to Ashley Bowen Cook for the contribution via Blue Sky Aviation News!
When charting your course, consider where you've been. But don't dwell on those experiences.
Bogging yourself down in what was hinders thoughts of what can be. Position yourself carefully and purposefully with knowledge of the past and a vision of where you want to go.
Think of Janus – ancient Roman god of beginnings, transitions, and endings – depicted with two heads, one viewing the future, and one peering into the past. Learn from his balanced approach. He does not appear confused, but centered by insight.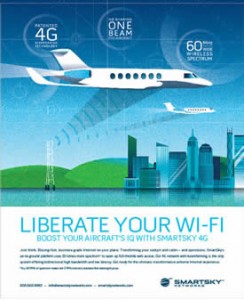 It can be the same with your marketing. A successful strategy considers both past experiences and future hopes. And then, launches with confidence. SmartSky Networks began a journey of a lifetime in 2009.
It brought together a team of industry-leading telecommunications and aviation professionals to launch an inflight connectivity revolution. They built on past successes but stayed open to new ways to overcome entrenched competition. This future-forward focus puts them on track to for a 2017 nationwide network roll out.
You are here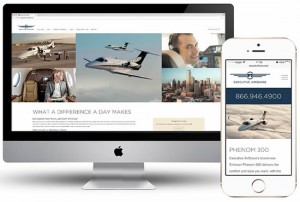 Take stock of the current situation and ask the relevant questions about how you arrived at this juncture. Who was the intended audience? What was the message? Did you make the hoped for connection? Answer with unflinching honesty and don't gloss over failures. Apply lessons learned along your long and winding road to correct or to confirm your direction.
Executive AirShare got its start in 2000, growing out of a highly reputable fixed-base operation in Wichita, Kansas. Now the nation's third-largest fractional aircraft provider, AirShare doesn't limit itself to the nation's heartland. From its operational centers throughout the Central United States and Great Lakes regions, customers fly all over the United States and into the Caribbean, Mexico, Latin America and Canada. It's grown by developing a do-it-right, get-it-done culture that puts shareowners first.
Get packing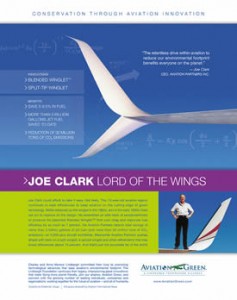 Prepare for the road ahead. Figure out what kind of creative will be deployed. Consider what worked before. What life can be infused into the strategy. Plot a strategy for leveraging social media and other integrated marketing platforms. Employ a thorough, critical review. Stay on track. Keep the list concise and focused. The way forward will be clear.
Aviation Partners stands apart as a leader in advanced winglet technology. Founder, CEO and aviation legend Joe Clark continually seeks efficiencies to keep aviation on the cutting edge of green technology. That effort extends to Aviation Partners' outreach, appropriately targeted to its tech-savvy and highly mobile target audience.
A pocket full of sunshine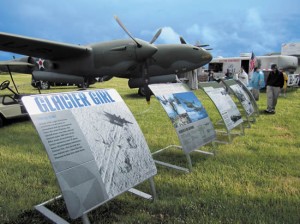 Rainy days come. Draw from previous wins to maintain motivation and stoke energy for you and your team. Recall the greatest risk that reaped a monumental reward. Let these experiences spur you on and keep the project moving forward. They can keep you from stalling out or worse – kicking into reverse.
Perhaps nothing underscores the value of perseverance more than Glacier Girl, the jewel in Rod Lewis' impressive Air Legends warbird collectioin. In July 1942, this aircraft (and seven other warbirds), low on fuel, crash-landed on Greenland's vast ice cap. In 1992, Glacier Girl was taken from its wheels-up position, removed section by painstaking section through shafts carved 25 stories (268 feet) into the ice. The sole rescued survivor of the entire squadron. Since returning to the air in 2002 before a crowd of 20,000, this P-38F Lightning has thrilled thousands more at air shows and events.
Lessons learned
Draw upon the insights of others. Collectively, your teammates know more than you. Collaborate and aha moments will come. Take the time needed to share knowledge so you learn from and don't repeat mistakes.
Look back at your best work, but don't live on past glory. Face forward and you may find your best work before you.
David Franson
October 17, 2016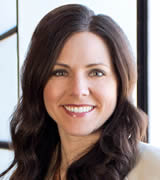 First at a Richard Aboulafia-led aerospace panel at Wichita State University's annual economic outlook conference, then at the Wichita Aero Club October meeting featuring John and Martha King. Both shared insights I've been mulling over.
Let's start with the aerospace panel and Aboulafia's reassurance that his forecast would be more positive this time. He said his earlier projection when the global aviation downturn hit in 2008 "falls under the category when bad things happen to good people." Then just to remind us how bad it was, he showed an aircraft delivery chart full of downward lines and said, "That red line at the bottom, that's what happened to Wichita." The difference this time around, he said, is that the strong correlation between oil prices and large aircraft has less effect on Wichita's small and midsize markets. He practically had us dancing in the aisles when he added that the serious body blow to Wichita's small and midsize markets is a thing of the past. The worries today, he said are more for big aircraft, such as those manufactured in Savannah.
Aboulafia's chart for aircraft production from 2006 to 2025 shows growth. That steady, light-blue ribbon represents business aviation. Not soaring, but certainly holding its own. Steady as she goes.
Fellow panelists Jason Cox and Dave Franson acquitted themselves well, as always. Franson recounted why Wichita will remain the Air Capital – not the least of which is that we've manufactured more planes than anywhere on the planet – more than 300,000 since the 1920s. Cox, a third-generation aviation supplier, spoke about the fourth revolution or the internet of things having arrived "like a teenager on Instagram." And, it's obvious Cox welcomes the innovation these new technologies and possibilities bring.
At the Wichita Aero Club luncheon following this panel, John and Martha King provided a global picture of flight training. John started things off with a bold statement, "Flight training determines the future of aviation." Yes, they're apt to be biased since flight training is their business, but they also bring a perspective molded by decades of experience. "Flying made the world accessible to us and changed our view of the world forever," said John.
After coming from a panel more focused on the manufacture of aircraft, it was good to be reminded of the importance of the human element – specifically pilots. Having enough of them to fly our fleets and training that keeps them aloft.
"Experience is a lousy teacher," John said. "It gives the test first then teaches the lesson after . . . We need to develop a new risk-management vocabulary and system."
As always, technology keeps things interesting. "Here come the drones, and they're a big deal," said Martha. In less than a year, more than 550,000 unmanned aircraft were registered. Manned aircraft number less than half that. And the drones keep getting better, with huge advances in drone see-and-avoid technology. "Boy is it coming fast," said Martha. Both Kings encouraged the aviation community to welcome remote pilots into the fold, but they acknowledged that privacy concerns make us look at operators skeptically. "We have a fascination and a fear of anything that rises up into the third dimension," said John.