News
WAC

March 2011 Business Luncheon Featuring Clay Lacy, a National Aviation Hall of Fame Inductee, Movie and Air Racing Legend, United Airlines and Learjet Pilot

February 28, 2011 8:00am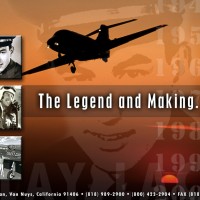 Local Flyer learned to fly at age 12, has logged more than 50,000 hours
Wichita, Kan. (Feb. 28, 2011) – Wichita native Clay Lacy has at least one interesting story for every hour he has logged in the left seat of an airplane…and that would add up to more than 50,000 so far. He will tell at least a few of them to the Wichita Aero Club on Tuesday, March 22 at the organization's monthly luncheon, scheduled for noon at the Wichita Airport Hilton. Tickets are $30 for members and $40 for non-members. Seats can be reserved on-line at www.wichitaaeroclub.org.
"Clay Lacy's induction into the National Aviation Hall of Fame last summer was just the latest in a long line of accomplishments for this native of Wichita who has done as much as any single person to put the 'air' in our claim to be the 'Air Capital of the World,'" said Dave Franson, executive director of the Wichita Aero Club. "Clay was born and raised on the west side of town and actually began flying at the age of 12. He already had more than 2,200 hours in his log book when he joined United Airlines at the age of 19 in 1952 and he flew for the airline for more than 40 years and logged 28,000 hours. During that same time, he became the Western US representative for Bill Lear and helped him make Learjet a household name. He still owns one of Bill's early Learjets and regularly pilots a Lear 24 in aerobatic displays all over the world. He is a past winner of the Reno Air Races (in 1970) and he has probably logged more hours than any living pilot and flown in more than 300 different types of airplanes. To top it off, he developed Astro Vision, the camera system that is used to shoot virtually all of the aerial sequences in aviation movies, filming intricate maneuvers and formation flights in such movies as Top Gun and Armageddon. The visuals he can bring along to support his presentation will be amazing, too."
Another Wichitan, Paul Bowen, a world-renowned aviation photographer who has worked on numerous occasions with Clay Lacy, will introduce the 2010 National Aviation Hall of Fame inductee prior to his presentation.
The Wichita Aero Club was founded in October of 2008 to foster and promote interest in aviation, provide a forum focused on the industry's issues and achievements and bring together those with a passion for flight in an environment that expands and enhances professional relationships and furthers cooperation and understanding.
To make reservations for this event click here WAC Events