Everybody loves a comeback kid, right? Except in this case it's no kid. It's a B-29 Superfortress bomber named Doc. This monstrosity of a machine has captured hearts everywhere, and why wouldn't it? This isn't just a chunk of metal that played a role in our nation's history. Doc is our history.
Doc was born right here in Wichita during World War II. After actively serving in the US Army for more than ten years, Doc was unceremoniously left in the desert to be used as target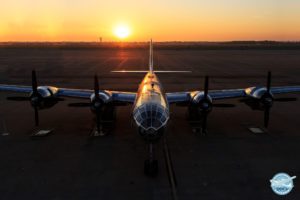 practice. Then one glorious day, Tony Mazzolini found Doc and decided right then and there he would restore him to flying status once again. Twelve years later, Mazzolini and his team took possession of Doc and the it was time for restoration. When Wichita welcomed Doc home in 2000, he was in about as many pieces. The team, made up of faithful volunteers, dutifully and carefully began reconstructing the historic warbird. Then in 2013 a group of people signed their names on the dotted line and officially became Doc's Friends, a 501c3 non-profit created to manage Doc's restoration and make sure the project was seen through to the end.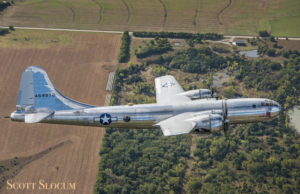 Fast forward a few years. Not only has Doc been revealed as fully restored, the superfortress has also been reunited with the sky! In July 2016 Doc successfully completed its first post-restoration flight after being on the ground for 60 years. Sixty years!
Doc's Friends have big plans for this B-29, including building it a permanent home. Efforts are in the works to raise awareness and funds to build a hangar just for Doc. A recent Wichita Eagle article divulged more details.
"It's going to be an active hangar," Doc's Friends spokesman Josh Wells said of a permanent building, adding it's where all of the World War II-era airplane's maintenance will be done. And it will be "a place for people to come see Doc," he said.

Doc's permanent home will likely be at Wichita Eisenhower National Airport, which has the runways and public access that would allow people to see the airplane even when it isn't flying.
Ahhh! All the feels.
Let's Step Up, Wichita!
Let's be honest. We all know we're super proud to have Doc back, right here in Wichita. It's yet another reminder of our rich aviation history, and if things go the way Doc's Friends hope, will soon have a permanent home at the same location where the Wichita Aero Club Trophy resides. Roomies!

So when you're done swelling with pride, let's be active and support the project, yeah? You don't have to just throw money at it, though. You get something in return. Something incredibly cool. Doc's Friends are raising money for the hangar by selling commemorative photos mounted on aluminum window cutouts from a Boeing 737 fuselage. How badly do you want one of those? Or know someone else who would love to display one? They're only $150 each, so not only affordable, but worth it.