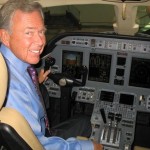 Wichita Aero Club Trophy Will Be Presented to Cessna Chairman Emeritus Russ Meyer!
Fourth annual award will be presented at Annual Gala on January 25, 2014.
Wichita, KS, October 22, 2013: The Wichita Aero Club announced today that the fourth annual Wichita Aero Club Trophy will be presented to former Cessna Aircraft Company Chairman Russell W. Meyer, Jr. Mr. Meyer was selected by the Club's Selection Committee from among fifteen nominees. The WAC Trophy will be presented at the Wichita Aero Club's annual Trophy Gala at the Doubletree Hilton Wichita Airport on the evening of Saturday, January 25, 2014.
"The selection of Russ Meyer for this award surprises no one," noted Dave Franson, Wichita Aero Club President. "Russ's contributions to the aviation industry and to the local community are so numerous and so extensive that it would take a book just to list them. He is, without question, a great choice for the Wichita Aero Club Trophy," he added.
The citation which accompanied the nomination read:
During his more than 25 years as CEO of Cessna Aircraft, Russ Meyer not only led the company to pre-eminence in the global business jet industry, but his industry leadership has been proclaimed as the most far-reaching and effective in the history of general aviation.
For nearly 40 years Russ Meyer has been "the face" of Wichita's heralded general aviation industry… and for very good reason. Under his tutelage Cessna Aircraft designed, developed, built and delivered more business jet aircraft, worldwide, than any other global manufacturer. Perhaps even more significantly, his community and industry achievements speak for themselves. Examples: (1) His innovative initiative to establish a training facility on East 21st street for unskilled workers led to jobs and hope for hundreds of Wichitans and their families. (2) His tireless efforts were instrumental in leading to Congress' enactment of the General Aviation Revitalization Act of 1994, which after a decade, re-opened the doors for aircraft manufacturers to effectively produce single engine aircraft, again, creating hundreds of new area jobs.
Mr. Meyer's well-deserved national awards include: the Wright Brothers Memorial Trophy, the Collier Trophy (twice, once jointly with Cessna), and election to the National Aviation Hall of Fame. A 14,000+ hour pilot, he is type rated in all Cessna products.
A graduate of Yale and Harvard Law School, Mr. Meyer served as a Marine Corps jet fighter pilot from 1958 – 1961, practiced law in Cleveland for five years, then served as CEO of Grumman American Aviation Corporation from 1966 – 1974, before joining Cessna in 1974, rising to chairman/CEO the following year. He is also the only executive to serve as Chairman of the General Aviation Manufacturers Associaiton (GAMA) three times.
He was elected into the Kansas Aviation Hall of Fame in 1996 and was named Kansan of the Year in 1998. Mr. Meyer and his wife, Helen, have been among Wichita's most generous philanthropists, leading and donating to causes supporting underprivileged children, education and the arts.
"We are extremely pleased to honor Russ Meyer in this way. He actually received multiple nominations for the WAC Trophy. As one of the nominations said, 'There is no one in the history of Kansas aviation who has achieved as much for aviation and the community as has Russ Meyer. ' We know this is one of many awards Russ has received during his extraordinary career, but we're still looking forward to an exciting and enjoyable event in January when he is officially presented with this recognition from his many friends and neighbors in the Air Capital, " Franson added.
The Wichita Aero Club was established in 2008 to foster and promote interest in aviation, provide a forum focused on the industry's issues and achievements and bring together those with a passion for flight in an environment that expands and enhances professional relationships and furthers cooperation and understanding.
The WAC Trophy is awarded annually to a living person, group, or existing organization with a strong relationship to the greater Wichita area, who have distinguished him, her or themselves in the field of aviation or aerospace within the most recent calendar year or during a cumulative career of significant achievements and contributions. For more information on the Wichita Aero Club, the January 25 Gala or other Wichita Aero Club events, call 316-681-4491 or visit the WAC website at www.wichitaaeroclub.org.
Partial Summary of Russ Meyer's Career:
Chairman, CEO and President of Cessna from 1975-2003
Named Cessna Chairman Emeritus in 2005
Chairman of the Board of the General Aviation Manufacturers Association (GAMA) in 1974, 1982 and 1994
Chairman of the FAA's Management Advisory Council from 2005-2008
Awarded the Collier Award twice, once in 1986 and again in 1996
Awarded the Meritorious Service Award from the National Business Aviation Association (NBAA) in 1995
Awarded the Wright Brothers Memorial Trophy in 1995
Awarded the George S. Dively Award for Corporate Public Initiative from Harvard
University for creating Cessna's 21st Street Training Program in Wichita
Led passage of the 1994 General Aviation Revitalization Ace (GARA) that limited aircraft liability
Originated the Citation Special Olympics Airlift where Citation owners transported athletes to the National Special Olympics games
Inducted into the Kansas Aviation Hall of Fame in 1996
Named "Kansan of the Year" in 1998
Inducted into the National Aviation Hall of Fame in 2009