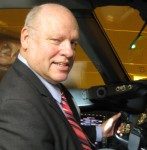 Things are heating up at Oshkosh … and that's not just another reference to the 100+ degree temperatures that are being registered daily in what is usually a very temperate, if sometimes humid, part of the country. This year, the humidity is in the air, but the characteristic rains have been AWOL all summer and the crops and conditions are stunted and dry. But, despite the oppressive heat and dry conditions, the annual EAA AirVenture has opened with some significant announcements for Wichita-based companies.
Among the most interesting press conferences, if only for what was NOT said, was the opening day session held by Tim Archer, Chairman and CEO of Superior Air Parts. Tim began his remarks by stating that "this is not a Superior Aviation press conference so I won't be taking questions on the Hawker Beechcraft acquisition." He then went on to give an insightful and positive report on what has happened at Superior Air Parts since it was acquired out of bankruptcy by Superior Aviation of Beijing in 2010. The parent company has invested in the US operations, which are now profitable, and has made it clear that Superior Air Parts in Dallas will serve the global market. A developing Superior presence in China is involved in a significant training effort that will allow an indigenous division of Superior to serve the Chinese marketplace. Just hearing Tim's confidence and assurances should add some of each for Hawker Beechcraft employees and suppliers in Wichita.
Meanwhile, back at the Cessna exhibit, things are looking up, as well. Cessna has introduced a new,higher performance version of the Caravan, powered by a Pratt & Whitney PT6A-140 engine and a Jet A-burning Turbo 182 Skylane. This airplane, powered by an SMA diesel engine, will perform at levels comparable to the existing Turbo Skylane, but won't produce any leaded emissions, nor will it be subject to the decreasing availability of 100LL gas, especially in the international marketplace. And, speaking of the international market, Cessna also announced that it is working with a Norwegian company to qualify the Skycatcher for European customers by moving it from LSA status (which it will still retain in the US), to a standard aircraft category in Europe that will allow it to be operated as a flight training and recreational airplane there, as well.
Generally, speaking, the tone at Oshkosh on Opening Day was upbeat and the show, as usual, has drawn an outstanding crowd. With hundreds of thousands of "extra" visitors, many of whom are sleeping under the wings of their airplanes on uncharacteristically dry grounds, the cell service may be a bit overwhelmed, but the enthusiasm is high.Now if we could just figure out how to lower the air temperature!