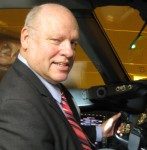 With all the Personal Digital Assistants, Tablets, Smart Phones, iPads, iPods, iMacs and "iCan't keep track of all the devices" out there that process information, it's amazing but true that we often find ourselves with more content than the Library of Congress–and yet we're still unaware of important stuff!  This is true at the Wichita Aero Club, too.  I became acutely aware of that fact–personally, not digitally–recently when I was having an honest-to-goodness, face-to-face conversation with a couple of board members and realized that there's a lot going on that we hadn't really shared.  I decided that this blog provides at least one medium to share some key information–so here goes!
Our mission statement includes the words "encourage education, training and career development in aviation" and we're actively engaged in that pursuit through promotion and support of aviation-related educational institutions and opportunities.  That's why we often promote things like the camps at Exploration Place, the Kansas Aviation Museum and the Kansas Cosmosphere.  We offer scholarships so kids can attend and learn more about potential careers in the air and space industry.  We've also provided some scholarships to students at the National Center for Aviation Training (NCAT) and we are actively pursuing a cooperative effort with the Wichita Community Foundation that will allow us to create a fund and award annual scholarships to students at local educational institutions who are pursuing aviation-related curricula.  We expect to make an announcement about this scholarship program in the near future.
Our Education Committee is also doing some good things.  We have recently received several responses from an e-mailing that requested volunteers for a Speakers Bureau we're establishing to help fulfill another aspect of our mission–raising awareness of key industry issues.  This effort, and a project that the Committee is  pursuing to create informational seminars for both students and professionals, are designed to provide valuable, high quality insights into careers, regulations, developments and issues that affect this industry.  We're targeting 2013 for the first seminar.  The Speakers Bureau is effectively on-line now, even as we continue to add to its roster of presenters.  If you have a need for a speaker, please feel free to contact the Wichita Aero Club office.
We're also looking at some additional meeting opportunities that include evening mingles like the ones we've had previously at NCAT and Exploration Place.  We're accepting suggestions on sites and times and considering  ideas like WAC nights at Thunder hockey games or Wingnuts baseball games, breakfast or barbecue fly-ins at Augusta, Benton or Jabara Airports, a reception and dinner at the Kansas Cosmosphere in August, and maybe even a "road trip" to EAA AirVenture in Oshkosh, Wisconsin.  Needless to say, these undertakings will require some planning and coordination, so if you're interested in participating, and helping us pull these together, please let us know by calling the office or sending an e-mail to dfranson@wichitaaeroclub.org.
Of course, we also want to hear from you regarding speakers, topics, and suggestions for other member services and activities.  That's why we've sent you out survey cards with your membership renewal packets and it's also one of the reasons I chose this blog to provide additional information.  It has a "Comment" feature at the end that will allow you to offer direct inputs, too. When it comes to membership, I'm pleased to announce that most of the renewal packets have gone out.  For those who haven't received one, it will be arriving shortly.  We've also added three new Board Member companies–Allen, Gibbs, & Houlik, Goodrich Interiors, and the Wichita Business Journal–to our ranks.  Their financial and professional contributions are extremely helpful and we welcome them.
Finally, I would be remiss if I didn't take this opportunity to thank all of the volunteers, sponsors, board and committee members and others who have gone the extra mile and helped the Aero Club "foster and promote" interest in aviation over the past three years.  We have consistently set attendance records at our luncheons and have attracted outstanding presenters because of your efforts and support.  We can't succeed without you.  You're even more essential than PDAs, Smart Phones, and iPads!