News
AOPA

Chief Shares Capitol Hill Updates with the Wichita Aero Club

July 13, 2011 8:00am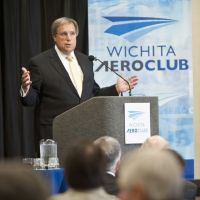 Over 200 Wichita Aero Club members attended the July 12 business luncheon, where they heard a Washington-insider update from Craig Fuller, president of the Aircraft Owners and Pilots Association.
Craig discussed a number of issues that affect general aviation, including fuel taxes, airport funding, air traffic control modernization, alternative fuels, flight tracking, GPS interference and pilot training. He also talked about President Obama's recent remarks calling for changes in the aircraft depreciation schedule that would impact the cost of ownership and put another obstacle in the road to recovery of the business jet industry.
Craig said cutting tax incentives to buyers of business aircraft would do little to help the budget and that he'd hoped U.S. Transportation Secretary Ray LaHood's visit to Wichita earlier this year was a sign that the administration supported GA. While speaking to an aviation rally at Cessna, Secretary LaHood promised to take GA's message back to Washington.
"I guess I have a message for Secretary LaHood — try harder," Craig said.
While he doesn't see an end to the rhetoric in Washington, Craig is encouraged that there is more support for GA today than there was two years ago. "While I wish we didn't have to contend with the rhetoric, it does fire up those in the community who support us," he said.
Craig pointed out that after Obama's most recent remarks a group of mayors banded together to publicly defend GA. He believes one of the most important developments during the aviation downturn has been the formation of a GA caucus in both the House and Senate.
"In Washington, if you stand up for yourself, they tend to join you. One of the most important joiners has been the GA caucuses formed in Congress," Craig said. The caucuses have allowed AOPA and others to inform elected officials about the value of GA to the economy and national transportation system, creating GA advocates when issues — like those he discussed at the Aero Club's lunch meeting — reach Capitol Hill.
The Wichita Aero Club's next business luncheon features John P. Johnson, President of Embry Riddle Aeronautical University, on August 16th at the Wichita Airport Hilton. The luncheon will begin at noon. Tickets are $40 for non-members and $30 for members of the Wichita Aero Club. More information is available at wichitaaeroclub.org or by calling 316-641-5962.