News
Kansas Governor Proclaims May Aviation Appreciation Month
May 9, 2011 8:00am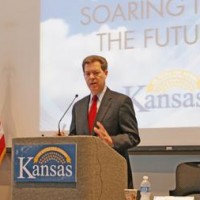 Wichita, Kan. (May 09, 2011) – At a recent Aviation Summit on April 25th, the first in a series of economic forums he plans to host throughout Kansas during the year, Governor Sam Brownback underscored his administration's commitment to retaining and enhancing the state's leadership in aviation production and innovation by proclaiming May Aviation Appreciation Month.
A copy of the formal proclamation was presented to the Wichita Aero Club, one of several aerospace organizations cited in the decree as key promoters of the state's aviation cluster, during its monthly luncheon on Monday, May 9th. Kansas Fourth District Congressman Mike Pompeo, a freshman Republican from Wichita, was the speaker at the event, held at the Wichita Airport Hilton. A copy of the proclamation will be displayed at the Aero Club's luncheons each month. The full content will also be reproduced on the organization's website, www.wichitaaeroclub.org.
Kansas Director of Aviation C. Edward Young presented a framed copy of the proclamation to Wichita Aero Club Executive Director Dave Franson prior to Congressman Pompeo's remarks. Governor Brownback originally signed the document on April 21st. His predecessor, Mark Parkinson, authored a similar proclamation designating February, 2010 as Aviation Appreciation Month in Kansas last year.
The 2011 proclamation cited data from a study by the Kansas Department of Transportation (KDOT) Aviation office that noted that the industry accounts for $20 billion in total economic activity within the Sunflower State, supports 47,651 jobs and generates $2.3 billion in payroll. Kansas also leads the nation with the strongest per capita economic impact from the aviation sector, which also contributes a very significant positive influence on the nation's balance of trade.
The Wichita Aero Club fosters and promotes interest in aviation, provides a forum focused on the industry's issues and achievements and brings together those with a passion for flight in an environment that expands and enhances professional relationships and furthers cooperation and understanding.
For more information about Governor Brownback's Economic Summit click here Road Map for Kansas