News
Congressman Mike Pompeo Speaks at the Wichita Aero Club May Business Luncheon
May 10, 2011 8:00am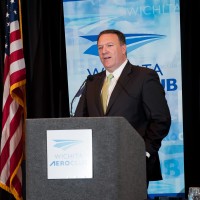 Wichita, Kan. (May 10, 2011) – Congressman Mike Pompeo (KS-04) recently told Wichita Aero Club members they are the key to a successful America. Speaking at the May Aero Club luncheon Congressman Pompeo was talking with an industry group he once was a part of as a former business owner. Prior to his role in the U.S. House of Representatives, Pompeo founded and ran a small business in Kansas supplying aircraft parts to many of the other local business owners in attendance at the lunch.
"I have the greatest admiration for people who are still in the business," said Pompeo to approximately 200 Aero Club members in the audience. "This is a business that is near and dear to my heart."
The monthly luncheon was moved to a Monday to accommodate Congressman Pompeo's travel schedule back to Washington D.C. Pompeo was elected in November of last year to represent Kansas' 4th Congressional District; he's been in office nearly four months and said he is counting on the Kansas aviation cluster to help America succeed.
"We need to reward businesses who are successful," Pompeo said as he was describing his theory on how Kansas can help in the economic recovery. "And I'm counting on you; my entire theory depends on you doing what you do best… If I'm wrong then woe is us, but I have faith in you."
Pompeo outlined three things he believes are important for continued progress on business-related issues in America:
1. Results at the next election
2. Honest conversation between elected officials and their constituents
3. Motivating the American People to be engaged
Wichita Mayor Carl Brewer also accepted a proclamation from the Governor's office declaring May as Aviation Appreciation month. The Aero Club also received a copy of the proclamation.
The Safran Group sponsored this month's business luncheon. There will not be a luncheon next month due to the Aero Club's second annual Golf Classic tournament on June 12th, held in conjunction with the PGA Nationwide Tour Preferred Health Systems Wichita Open. The next Wichita Aero Club business luncheon is scheduled for July 12th and will feature Aircraft Owners and Pilots Association President Craig Fuller.
To view photos from this event click here WAC Photo Gallery