News
Clay Lacy Recounts Extraordinary Aviation Career at March Business Luncheon of The Wichita Aero Club
March 23, 2011 8:00am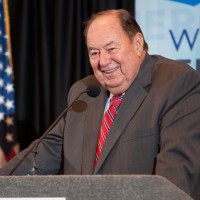 Wichita, Kan. (March 23, 2011) – They call him Mr. Learjet and Mr. Hollywood. They say he's a pilot's pilot, an ambassador of aviation, an icon in the industry. He was inducted into the National Aviation Hall of Fame in 2010.
Clay Lacy has flown more than 300 aircraft types and logged more than 50,000 flight hours during the past six decades; at the March 22 Wichita Aero Club monthly meeting Lacy shared experiences from a legendary aviation career that began in Wichita, Kan.
When he took his first flight in a Beech Staggerwing at age 8, Lacy already knew he wanted to be a pilot. Four years later he began flying thanks to Orville Sanders, who used land on Lacy's grandmother's farm at Maple and Tyler in west Wichita to create the Orville Sanders Cannonball Airport.
Lacy worked at the airport in exchange for flight time, and since then he has only worked one half of a day in anything other than aviation (a short stint at a grocery store).
He joined United Airlines at age 19 to fly DC-3s and went on to become its most experienced 747 Captain, an aerial cinematographer for movies and commercials, experimental pilot, fighter pilot, entrepreneur and holder of 29 speed records.
In the early 1960s Lacy spent a lot of time back in Wichita to help with the inception of the Learjet. Lacy said he once asked Bill Lear why he decided to build airplanes in Wichita, and Lear said: "Can you think of any place I can steal more engineers?" He had a long affiliation with Learjet, being the first to fly Learjet demo flights out of Hollywood and opening up the corporate jet transportation market there.
At the March 22nd Wichita Aero Club business luncheon, Lacy reminisced about his formative years as an excited young boy, fascinated with planes and flying. Acknowledging local friends and businesses, he took pride in his Wichita roots and said that when it comes to aviation, "it deserves its title as 'the Air Capital of the World' because more airplanes have been built here than anywhere else. Interestingly enough, I now live in the city that is second in that category, even though it hasn't produced an airplane in over 30 years—Los Angeles," he added.
Guests at the luncheon not only heard the world's most experienced pilot talk about his experiences in the air, they viewed a video that was shown at his induction into the National Aviation Hall of Fame last summer and some extraordinary footage of the former Learjet demo pilot putting a 50-year old Lear 24 through a series of aerobatic maneuvers more suited to a modern military fighter. "It's a program I'm exploring for what to do with used business jets," he suggested— facetiously, of course.
Today Lacy owns FBOs in Van Nuys, Calif., Seattle, Wash., and Denver, Colo., one of the world's leading charter and aircraft management companies, and continues filming aviation for movies and commercials.
The Wichita Aero Club's next luncheon features Richard Aboulafia, Vice President and Analyst of The Teal Group, on April 12th at the Wichita Airport Hilton. The luncheon will begin at noon. Tickets are $40 for non-members and $30 for members of the Wichita Aero Club. More information is available at wichitaaeroclub.org or by calling 316-641-5962.