News
Kansas Fourth District Congressman Mike Pompeo To Speak At May Business Luncheon of The Wichita Aero Club
April 13, 2011 5:00am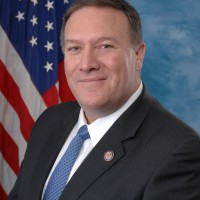 Wichita, Kan. (March 17, 2011) – Mike Pompeo was a candidate for membership in the Wichita Aero Club before he even thought about becoming a candidate for a more prominent organization—the United States House of Representatives. As the founder of Thayer Aerospace in Wichita along with three partners in the '90s he developed a first-hand interest in things aeronautical. Things political became more prominent in his life after the election of 2008 and after he saw how politics affected his business. By the time the mid-term elections of 2010 rolled around, the Army officer-turned lawyer-turned businessman made one more career decision and ran for office. In his first foray into elective politics, he was chosen to represent the fourth district of Kansas in the United States House of Representatives. Congressman Pompeo will return to his home district to address the Wichita Aero Club on Monday, May 9 at the organization's monthly business luncheon, scheduled for noon at the Wichita Airport Hilton. Tickets are $30 for members and $40 for non-members. Seats can be reserved on-line at www.wichitaaeroclub.org.
"Mike Pompeo is one of those freshmen Congressmen who is already making a difference in Washington," said Dave Franson, executive director of the Wichita Aero Club. "He saw things happening to his business and to his community as a business leader and decided the best way to respond was to take an active role in the political process. His resume includes the practical experience of running an aerospace company and that is an obvious asset for the representative of the Kansas Fourth district where more airplanes are built than anywhere else in the world. He knows our issues and is an eloquent and outspoken advocate for the industry. He will, no doubt, have some interesting insights into topics such as FAA reauthorization, the Boeing Tanker award, and the federal budget."
Congressman Pompeo serves in the 112th Congress on the Energy and Commerce Committee that oversees federal law and policy relating to healthcare, telecommunications, energy and trade issues. After growing up in California, he attended the United States Military Academy at West Point, graduating first in his class, and was commissioned an officer in the United States Army. He served as a Cavalry officer along the Iron Curtain prior to the fall of the Iron Curtain. Upon completion of his military service, he enrolled in law school at Harvard where he earned his law degree and was the editor of the Law Review. He worked briefly for a Washington, DC law firm before returning to his family roots in South Central Kansas to found Thayer Aerospace with three partners in the mid-90's. In 2006, he sold his interest in Thayer and became President of Sentry International, an independent business that is engaged in the manufacture, distribution and sale of equipment used in oilfield and industrial applications around the globe.
The Wichita Aero Club was founded in October of 2008 to foster and promote interest in aviation, provide a forum focused on the industry's issues and achievements and bring together those with a passion for flight in an environment that expands and enhances professional relationships and furthers cooperation and understanding.
To make reservations for this event click here WAC Events