News
Congrats to Steve Hart!
October 26, 2018 4:28am
After 23 years, Account Director (and long time WAC member!) Steve Hart will leave SHS with some wise words for newcomers.
Steve Hart, Aviation Expert and Perpetual Learner Retires from
SHS
This month closes out the four-decade advertising and marketing career of SHS' Steve Hart. Account Director since 2008, Hart has been at the center of the agency's aviation business for 21 years.
Hart made the SHS Wichita office his home in February 1995 following a short career at The Wichita Eagle and almost 10 years of local agency experience at QEJ and Lida Advertising.
The Move Into Aviation
Two years later then Vice President – Creative Director Joe Norris asked Hart how he felt about working in the aviation industry. Little did Hart know that his answer of "I think since I live in Wichita, I probably should," would be the beginning of a specialty that spanned more than 20 years.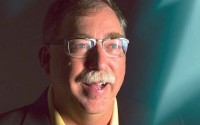 From that day on, Hart has overseen account services at SHS for many leading aviation brands, including Rockwell Collins, Cessna, Textron Aviation and Pratt & Whitney.
Hart credits Pratt & Whitney for the proudest moment of his career – helping them win their Joint Strike Fighter engine war with GE.
"Nobody thought we could do it. We were David, and we beat Goliath," Hart recalls.
The Power of SHS' Sheephaters
An SHS Sheephater is often cited as a special kind of person, and Hart confesses that the number of SHSers who have influenced and inspired his career is too high to count. His advice to newcomers to the industry is that continuous learning has been the key to his long and fulfilling career.
"The truth is that you learn from so many people; even people who are new to the agency bring a new idea or perspective. You just learn from everybody," says Hart. "Remain in a constant state of learning. Whether it's about your client, industry, new ways of doing things in the agency or new developments in technology. In account management, you have to be a generalist in some ways; you have to be able to talk across a lot of things to relate to people. Learning is everything – it never stops, you can't be afraid of that."
What's Next for Steve?
In his time at SHS, Hart has also graduated from father to "fully fledged grandparent" of grandchildren Garret, Isaac and Jillian. His retirement will bring more time to spend with them at their many sporting events and gymnastics meets.
One thing that will undoubtedly fill Hart's time is supporting his beloved Shockers. A Wichita State graduate of 1976, Hart is a proud Shocker through and through, and in 2016 was awarded the Elliott School of Communication's Outstanding Alumni Award for his achievements in the field of communications.
A Legacy of Learning
Apart from family and Shocker-time, Steve is as yet undecided as to how he will fill his days upon retiring from SHS, but some part-time work is definitely in the cards. Possibly some teaching, which would be a fitting move for someone who has committed so much of his career to mentoring his junior colleagues.
When reflecting on his time at SHS, Steve can confidently say he has no regrets and hopes his legacy will be one of great coaching, mentoring and learning.
"I hope I'll be remembered as somebody who was good at managing people and helping them do their jobs better," says Hart.
He certainly will be.
"Steve has had an immense and positive impact on literally generations of young professionals. We all stand on Steve's shoulders here at SHS. Every last one of us," says Jennifer Szambecki, associate account director at SHS.
SHS Co-CEO Ali Mahaffy echoes that Hart's leadership has equipped many an SHS account manager with skills they will lean on for years to come.
"Steve has been an integral part of SHS for more than 23 years. He has mentored, trained and coached dozens of account people over the years. His leadership style has been quiet, consistent and overflowing with trust," say Mahaffy. The SHSers who have been fortunate enough to work with Steve have learned to form solid relationships built on expertise, knowledge and true partnerships. Many clients and SHSers alike will miss Steve and his calm, cool smarts. We wish him the very best in retirement."