News
Now Accepting Trophy Nominations!
September 19, 2018 7:30am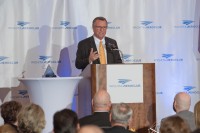 We're accepting nominations for the next Wichita Aero Club trophy recipient! The winner will be showered with honor at our annual fundraiser gala in January 2019. We have all the details online, so go check them out and tell us who you think is most deserving of recognition by aviation lovers in the Air Capital. All nominations must be submitted by October 1. A winner will be announced after the selection committee has reviewed all submissions.