News
WAM

Brings Edward H. Phillips to Wichita on 9/20!

August 30, 2018 10:11am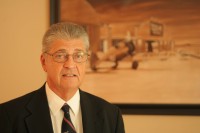 The Wichita Art Museum is bringing Edward H. Phillips, an aviation journalist and historian with a special interest in Wichita's role in the evolution of American aeronautics, to Wichita on Thursday, September 20, at 6 p.m. for a free public talk.
History Talk on World War I and Early Wichita Aviation: Edward H. Phillips
Phillips is the author of Wings Over the Prairie: A Brief History of the Aviation Industry in Wichita, Kansas, published in conjunction with WAM's fall exhibition Over There, Over Here: American Print Makers Go to War, 1914–1918. He also has researched and written eight books and dozens of magazine articles on the development of the aircraft manufacturing industry in our city.
For more information, please visit wichitaartmuseum.com/aviation