News
Aug. Luncheon Photos!
September 12, 2017 6:52am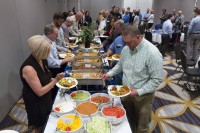 The August luncheon photos are up over in the gallery, so go download your favorites in hi-res. And in case you missed the luncheon and want to catch up, we're also passing along a link to the video so you can watch the whole thing! We really enjoyed gaining the insight of Congressman Ron Estes, and would like to extend a heartfelt thanks for joining us in August.