News
Great Moments at EAA!
July 27, 2017 12:47pm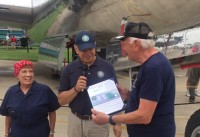 FAA Administrator Michael Huerta presents Flight Engineer certificate to Doc "Rescuer" Tony Mazzolini!
We were at EAA AirVenture 2017 in Oshkosh July 24-30. We snapped this shot of Connie, Tony and Michael standing in front of Doc. One of many proud moments for the Air Capital throughout the course of the week!