News
Paul Bowen to be Honored at 2017
WAC

Trophy Gala

December 10, 2016 8:19am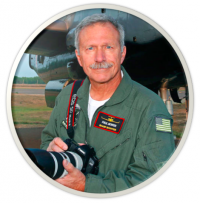 Make plans now to help us honor Paul Bowen, the world's foremost aviation photographer, with the 2017 Wichita Aero Club Trophy on Saturday, January 28, 2017.
Save the Date: 2017
WAC

Trophy Gala, Jan. 28

Since 1972 Paul Bowen has been an exemplary ambassador for the aviation industry and "The Air Capital of the World," producing the world's most creative, memorable and enduring air-to-air images. A loyal and proud resident of Wichita, his extraordinary photos have graced the covers of more than 1000 magazines and have set the standard by which all other aviation photos and photographers are measured.

His generosity extends well beyond his talent to include significant contributions to individuals, causes and charities within the aviation community.

Paul's honors include Canon's elite "Explorers of Light" team. Business and Commercial Aviation Magazine 2008 Vision Award. 2009 nominee for Aviation Week & Space Technology Magazine's annual Laureate Award. Photographer of the Year by Pro-Pilot Magazine. 2008 International Society for Aviation Photography Award of Excellence. San Diego Air & Space Museum's International Air & Space Hall of Fame inductee. Kansas Aviation Hall of Fame inductee and named to FLYING Magazine's "51 Heroes of Aviation" List.

For details and to reserve your seat, visit our event page here.