News
Wings of Hope for
PCR

Event on Oct. 22 Honors Gayle, Pete & Ken

September 27, 2016 7:07am

Wings of Hope for Pancreatic Cancer Research is hosting a great event on October 22 at the Orpheum Theater in Wichita to honor the memories of Gayle Johnson, Pete Reynolds and Ken Lehrman. Will we see you there?
Hear the men who flew the SR-71 2100 mph and above 90% of the earth's atmosphere!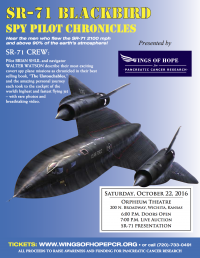 Here's what you need to know about this event:
Get tickets here: www.wingsofhopepcr.org or call (720)-733-0491
All proceeds to raise awareness and funding for pancreatic cancer research.
When: Saturday, October 22, 2016
Where: Orpheum Theatre (200 N. Broadway, Wichita, Kansas)
Time: 6:00 P.M. Doors Open, 7:00 P.M. Live Auction
You'll enjoy: SR-71 presentation
SR-71 Crew
Pilot Brian Shul and navigator Walter Watson describe their most exciting covert spy plane missions as chronicled in their best selling book, The Untouchables, and the amazing personal journey each took to the cockpit of the world's highest and fastest flying jet – with rare photos and breathtaking video.