News
WAC

Lands at Stearman Field For August Event

August 3, 2016 11:20am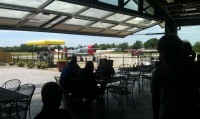 The Wichita Aero Club will celebrate its 2016 Scholarship winners and get a first-hand look from two of its members who participated in this year's Women's Air Race Classic at a special evening event at the Stearman Field Bar & Grill in Benton, Kansas on Monday, August 22. The mixer will begin at 5:00 pm with a cash bar reception followed by a Mexican Buffet at 5:30 PM and the program at 6 PM. Cost for members and guests will be $30. Stearman Field is located at 14789 SW 30th Street in Benton, Kansas, approximately 5 miles north of East 21st Street and Andover Road.
"Stearman Field is home to a number of Wichita Aero Club members who hangar their airplanes there and live on site, as well," explained WAC President Dave Franson. "The restaurant is also a popular site for the proverbial '$100 hamburger' or for combining good food with watching airplanes. The airport is named after Lloyd Stearman and it's actually home to several beautifully restored Stearman biplanes. It's a great venue for this type of event and it provides us with both a terrific spot to host our scholarship winners and their families and an ideal place for Robin and Tessa to do a 'show and tell' regarding their experience in the annual Women's Air Race Classic—a national event that has been going on since the days of Amelia Earhart!"
The evening event will also offer an opportunity for attendees who can't make the Aero Club's luncheons to participate. It will be the second year in a row that the Aero Club will hold an event at an airport on a summer evening. Last year, the WAC met at Jabara Airport when Jack DeBoer
hosted an evening reception in his hangar and spoke about his book _Risk Only Money. _"We're hoping the temperature will be a little milder for this year's outing," Franson noted. The mercury reached 101 degrees at the 2015 gathering. "Stearman Field Bar & Grill has some space that's air conditioned, so we should be in pretty good shape," Franson added.
For more information or to make reservations, call 316-665-2699 or 641-5962 or visit the Wichita Aero Club website at www.wichitaaeroclub.org.__