News
March 15
WAC

Luncheon Will Shed Light on Sun-Flyer

February 24, 2016 7:43am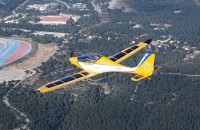 Former Cessna President and Chief Operating Officer Charlie Johnson and George Bye, founder of Aviation Technology Group and Bye Aerospace are working on a new alternative for the flight training marketplace. George is currently the CEO of Aero Electric Aircraft Corporation (AEAC) and Charlie is COO of the company that is developing an electric airplane. They will present the Sun-Flyer at the Tuesday, March 15 luncheon at the Doubletree Hotel by Hilton at Wichita's Dwight D. Eisenhower National Airport.
The Wichita Aero Club audience has already heard about the Aircraft Owners and Pilots Association's (AOPA's) "reinvented" aircraft alternatives, including the Ascend 172 currently available from Yingling Aviation. It's a refurbished and re-manufactured Skyhawk specifically offered as a means of controlling costs in the owner/pilot and flight education arena. But, AEAC is working with engineering partner PC Aero, GmbH on what they have dubbed the Sun Flyer solar-electric aircraft. No, they're not airplanes that are tethered to the local airport by extremely long, airborne extension cords; the Sun-Flyer combines an electric motor, battery, solar and composite construction technology that translates into e an e-plane can be a game-changing next generation trainer.
Messrs. Johnson and Bye think the Sun-Flyer will not only be affordable, it can be a profitable enterprise, too. They noted that more expensive factory- new Cirrus, Diamond and Cessna trainers sell in low quantities. They think the Sun-Flyer will do better. And, after testing new and cheaper 250-Wh/kg battery packs, Bye said the Sun Flyer's endurance is well-suited for training flights.
AEAC estimates direct operating costs of somewhere around $11 an hour compared to $66 per hour for a Cessna 172, accounting for maintenance and fuel. In its well-received initial pitch to the FAA, AEAC has defined the airplane as a two-seat, parachute-equipped primary trainer, worthy of a standard airworthiness certificate for day and night VFR, and one that's an economic imperative for a new breed of students. Bye defined them as career-focused student pilots aiming for jobs flying turbine equipment, although he's not dismissing the appeal to flying clubs and owners looking for a weekend toy. Spartan College of Aeronautics and Technology signed on to reserve a set of Sun Flyers to offer primary flight training to students. The college was founded in 1928 and is a respected trade school for aircraft maintenance, avionics and flight training—seemingly a good launch customer.
The Wichita Aero Club was founded in October of 2008 to foster and promote interest in aviation, provide a forum focused on the industry's issues and achievements and bring together those with a passion for flight in an environment that expands and enhances professional relationships and furthers cooperation and understanding. Tickets are $30 for members and $40 for non-members. Seats can be reserved on-line at www.wichitaaeroclub.org.