News
Wichita Aero Club and Chamber Will Host Southwest Airlines Execs at Botanica for Feb. 25 Luncheon
January 27, 2016 9:11am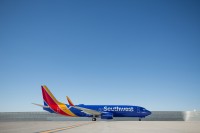 Convincing Southwest Airlines to provide air service to Wichita was over a decade-long undertaking. Celebrating the future of the airline's service to Wichita will be the subject of a joint Wichita Aero Club and Wichita Metro Chamber luncheon on Thursday, February 25 at 11:30 AM at Botanica. The event is open not only to members of the two organizations but the general public as well. It will feature a panel of Southwest Airline executives moderated by Gary Plummer, President and CEO of the Wichita Metro Chamber.
On June 2, 2013, Southwest began service in Wichita with nonstop service to Dallas Love, Chicago Midway and Las Vegas. Southwest has lowered Chicago fares at least 47% and Dallas fares 58%. Starting April 12, Southwest will begin new nonstop service to St. Louis and Phoenix, in addition to continuing its nonstop service to Las Vegas, and will discontinue nonstop service to Chicago and Dallas.
"We're anxious to hear directly from Southwest about the new destinations, why they were chosen instead of Dallas and Chicago, as well as learning about the Southwest products and how they can benefit our businesses." noted Dave Franson, Wichita Aero Club President.
"We're very fortunate to have four representatives from Southwest join us for this event," said Valerie Wise, Air Service & Business Development Manager at Wichita's Dwight D. Eisenhower National Airport. "The Southwest panel features Dave Harvey, Sr. Director, Network Planning and Performance; Seth Quillin, Sr. Manager, Network Planning and Performance; Kyle Snyder, Business Consultant, Network Planning and Performance and Joyce Hobbs, Regional Account Manager, Corporate Sales. We'll be able to hear directly from the people who deal with planning, scheduling and performance issues, learn how to take advantage of Southwest's products, and we'll be accepting questions from the audience."
The luncheon, which is being held at Botanica to accommodate the combined Aero Club and Wichita Metro Chamber members, is also open to the public. Tickets are $30 for Aero Club and Wichita Metro Chamber members and $40 for non-members. A mixer/reception will begin at 11:30 a.m. followed by lunch at noon. The presentation will commence immediately after the buffet luncheon and will conclude around 1:30 p.m.
For more information or to reserve seats, contact the Wichita Aero Club at 316-665-2699 or visit the website at www.wichitaaeroclub.org where tickets can be purchased on-line using PayPal, Visa, Discover or MasterCard. Information can also be obtained by contacting the Wichita Metro Chamber at (316) 268-1135 or by visiting the website at www.wichitachamber.org.