News
Former Cessna, Learjet Exec Charlie Johnson Inducted Into the Kansas Aviation Hall of Fame
October 13, 2015 9:57am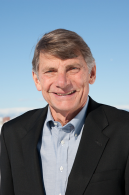 WICHITA, KANSAS – The Kansas Aviation Museum (KAM) announced its 2015 Inductee to the Kansas Aviation Hall of Fame on October 6 and it was a popular choice among the host of former colleagues from two of the Air Capital's airframe manufacturers who made up an enthusiastic audience in the Museum's newly renovated main hall. Charles (Charlie) B. Johnson was honored for his storied career of flying and impressive aviation leadership. He was a pilot for golfer Arnold Palmer, Chief of production flight test for Learjet, Production flight test manager for Cessna, Aviation manager for Koch Industries, and the President and Chief Operating Officer for Cessna. Since leaving Cessna he has worked in Colorado and is currently the President of the Aero Electric Aircraft Corporation. He is also very active with the Wings over the Rockies museum in Denver.
 
Johnson has over 15,000 hours of flight time, including 5,000 hours as a test pilot. During his time at Cessna and Learjet he was involved with the certification of over 25 new models of aircraft. As an instructor he has helped numerous pilots solo on their 16th birthday and spread the love of flight to thousands of people through volunteer work at aviation museums including the Kansas Aviation Museum.
 
The induction Ceremony was attended by approximately 100 guests including some of Wichita's foremost aviation personalities. Several other Kansas Aviation Hall of Fame inductees were in attendance, as well. The ceremony was followed by a reception honoring Mr. Johnson, his late wife, Gayle, and members of their family who were also in attendance.