News
Announcing Doc's Kickstarter Campaign!
September 25, 2015 1:24pm
Beginning September 30, We Have 30 Days to Fund Doc's Test Flight Program!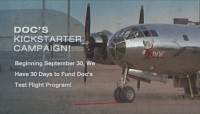 Doc's been busy lately – did you hear that on September 18th, the B-29 successfully fired up all four engines for the first time since 1956? This historic event garnered a lot of media attention including a great story and video by the Wichita Eagle. In case you missed it, you can watch the full video of engine start here.
You might also notice Doc has a new website, launched last week – see? Doc's a busy B-29!
On Wednesday September 30, Doc's friends will be launching a Kickstarter campaign to help fund our flight test program. If you're unfamiliar with Kickstarter, it's a crowd-funding platform that helps organizations raise money. We will have 30 days to spread Doc's story and reach our monetary goal. We appreciate anything you can do to spread the word and continue your tremendous support of our beloved B-29.