News
Business Aviation At the Speed of Sound
August 7, 2015 4:35pm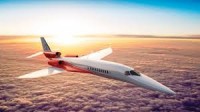 Wichita has a major connection to Supersonic Flight. He's a familiar figure, even if he's only a part-time resident of the Air Capital these days. Brian Barents developed a reputation for speed early in his Wichita aviation career. A native of Detroit, he earned his wings and began flying jets at a young age. He came to Kansas and rose through the management ranks at Cessna rapidly. Soon he was leading the Sales force at the world's leading producer of business jets. When he moved over to Learjet, he continued his ascent, taking over as CEO and returning the company to profitability. He led Galaxy Aerospace, too, and negotiated its sale to Gulfstream, so it's not surprising to find him atop the organizational chart at Aerion, these days,as they develop a multi-million dollar supersonic business jet. Like the aircraft he's promoting, Brian Barents just can't seem to slow down!
He'll be the featured speaker at the next luncheon of the Wichita Aero Club on Monday, September 21 at noon. The event will be held in the Emerald Ballroom of the Doubletree by Hilton at Dwight D. Eisenhower National Airport. Doors will open at 11:45 AM. Seats are $30 for Wichita Aero Club members and $40 for non-members. It is open to the public.
"Brian is long-time resident of Wichita and a major player in the aviation community here," noted Dave Franson, WAC president. "He'd draw a significant crowd just by talking about the many highlights of his career at Cessna and Learjet but I suspect this event will be extremely well attended because it also happens to feature one of the industry's most provocative topics—the supersonic business jet. I can't think of anyone better to talk about it, either. Brian has been associated with Aerion since its inception and he was a key figure in last year's announcement of the collaboration between Aerion and Airbus to work together on this project. This promises to be a really interesting presentation," he added.
Reservations for the luncheon can be made online at www.wichitaaeroclub.org or by calling 316.681.4471.