News
FAA

Administrator Michael Huerta Will Be May 12 Luncheon Speaker

April 16, 2015 11:43am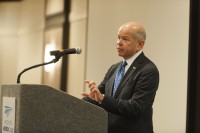 Federal Aviation Administrator Michael Huerta will make his second visit to the Wichita Aero Club on Tuesday, May 12 when he addresses the Club's luncheon at the Doubletree by Hilton at Wichita's Dwight D. Eisenhower National Airport. Beginning at 11:45 AM, members and guests will gather in the hotel's Emerald Ballroom. The buffet luncheon will commence promptly at noon.
Administrator Huerta will begin speaking at approximately 12:30 pm. He is expected to address a range of aviation issues which will, no doubt, include the inauguration of service at Wichita's new airline terminal which is currently scheduled to begin in May as well.
"We are extremely pleased and honored to have the FAA Administrator include a stop in Wichita in his very busy schedule," said Dave Franson, President of the Wichita Aero Club. "We know from his previous visit that he will offer both an informative and very candid perspective on the issues which are of great interest to our industry. He continues to be extremely interested in what is happening here in the Air Capital among our airframe manufacturers and suppliers and we expect this session to be among the most interesting and well-attended events of the year," he added.
Tickets for the luncheon are available on line at www.wichitaaeroclub.org or can be obtained by calling 316-681-4471. Prices forWichita Aero Club members are $30 per person and $40 per person for non-members. Walk-in attendees can also be accommodated.