News
NTSB's Robert Sumwalt Will Speak at
WAC

Luncheon on Wednesday, August 7

June 4, 2013 11:15am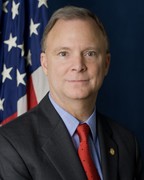 Robert Sumwalt, a veteran member of the National Transportation Safety Board, will be the speaker at the August luncheon of the Wichita Aero Club on Wednesday, the 7th at noon. The luncheon will be held, as usual, at the Doubletree Hotel by Hilton at Wichita Airport in the Emeral Ballroom. Tickets are available on-line at the Wichita Aero Club website (www.wichitaaeroclub.org) or by calling 316.681.4471.
Mr. Sumwalt was sworn in as the 37th Member of the National Transportation Safety Board in August 2006, whereupon President George W. Bush designated him as Vice Chairman of the Board for a two-year term. In November 2011, President Barack Obama reappointed Member Sumwalt to an additional five year term. His term of office as a Board Member will run until December 31, 2016.
Prior to coming to the Board, Mr. Sumwalt was Manager of Aviation for the SCANA Corporation, a Fortune 500 energy-based company.
Mr. Sumwalt was a pilot for 32 years, including 24 years as an airline pilot with Piedmont Airlines and then US Airways. He logged over 14,000 flight hours and earned type ratings in five aircraft
He served as a member of the Air Line Pilots Association's (ALPA) Accident Investigation Board, and chaired ALPA's Human Factors and Training Group. He was a co-founder of that organization's Critical Incident Response Program, which provides guidance to airline personnel involved in traumatic events such as accidents.
From 1991 to 1999, Mr. Sumwalt conducted aviation safety research as a consultant to NASA's Aviation Safety Reporting System, studying various issues including flight crew performance, improving flight crew monitoring skills, and air carrier de-icing and anti-icing problems.
Mr. Sumwalt co-authored a book on aircraft accidents and has written extensively on aviation safety matters, having published over 85 articles and papers in aviation trade publications. Before joining the Board, he was a regular contributor to Professional Pilot magazine.
In 2003, Mr. Sumwalt joined the faculty of the University of Southern California's Aviation Safety and Security Program, where he was the primary human factors instructor.
In recognition of his contributions to the aviation industry, Mr. Sumwalt received the Flight Safety Foundation's Laura Taber Barbour Award in 2003 and ALPA's Air Safety Award in 2005. He is a 2009 inductee into the South Carolina Aviation Hall of Fame.