News
BACK

TO

THE

FUTURE

AT

BEECHCRAFT

March 20, 2013 2:20pm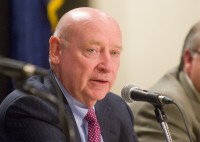 It's a new company with an iconic name and eight decades of heritage. The new Beechcraft Corporation will be the focus of comments by the company's Chief Executive Officer Bill Boisture at the April 22 gathering of the Wichita Aero Club. The luncheon will begin at 12 Noon on the third Monday in April. It will be held in the Emerald Ballroom of the Doubletree by Hilton Hotel at Wichita Airport.
"This will undoubtedly be an extremely interesting and wide-ranging presentation since the company has only recently emerged from Chapter 11," said WAC President Dave Franson. "Bill Boisture is always a candid and compelling speaker and he does a great job of compressing a lot of information into a short period of time. This presentation will provide an opportunity for the Wichita Aero Club's audience to hear, firsthand, the plans and goals of the reorganized Beechcraft. The company has such a great history and outstanding products—36,000 of which are still flying—that many of us are anxious to see what's on the horizon. There's no better person to tell us than the company's chief executive."
Seats at the luncheon can be reserved on-line by going to the Wichita Aero Club website at www.wichitaaeroclub.org or by calling the WAC office at 316-681-4471. Tickets are $40 for non members and $30 for members. All Wichita Aero Club events are open to the public.