News
GAMA

Chairman, President to Present Annual Industry Review at March Luncheon

March 4, 2013 2:25pm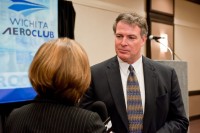 Each year the General Aviation Manufacturers Association (GAMA) presents it's annual review of general aviation shipments, priorities and goals for the coming year to the Washington, DC press corps. Known as the Annual Industry Review (AIR), the presentation provides an overview of how the association's member companies—which now include more than 80 firms from around the world—performed and what issues and challenges they faced over the past 12 months. GAMA also uses the event to present its agenda and focus for the coming year and provides a wealth of data on the industry as a whole. On Wednesday, March 20, the program will be presented to the Wichita Aero Club at its monthly luncheon at the Airport Doubletree Hotel by Hilton, beginning at 12 Noon. GAMA President and CEO Pete Bunce will be joined by this year's Board Chaimran, Brad Mottier, Vice President and General Manager of Business and General Aviation at GE Aviation for the occasion.
"GAMA is not only among the most effective advocacy voices on Capitol Hill, it's also the repository of a wealth of data on the general aviation segment of the aircraft industry," said Wichita Aero Club President Dave Franson. "The date of the AIR is one that's circled on the calendars of reporters and business leaders throughout the industry each year and we're very pleased that Pete and Brad will be providing this information, and their insights, during our March luncheon. The summary of the past year and a discussion of the priorities for this segment of the market in 2013 is likely to draw a large crowd in the 'Air Capital.'
GAMA continúes to expand into a global organization that now includes agricultural and rotorcraft manufacturers among its members. It incorporates member companies who build GA airframes, engines, avionics and other components as well as operators of aircraft fleets, Fixed Base Operators (FBOs), pilot/technician training centers and maintenance facilities. The organization was founded in 1972 and is also a leading force in the promotion of general aviation safety, innovation, and cooperation.
TIckets for the luncheon can be ordered on-line at www.wichitaaeroclub.org or by calling 316.681.4471. The luncheon will be held in the Emerald Ballroom of the Doubletree by Hilton Hotel at Wichita Airport. Cost for the luncheon is $30 for members and $40 for non-members. Walk-up attendees are also welcomed.