News
Flying The World's Ultimate Business Jet: Air Force One
September 28, 2012 10:15am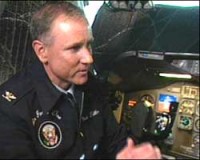 *Colonel Mark Tillman Piloted The President's Plane on September 11, 2001, to Baghdad during the Iraq War; He will recount his experiences at November 12, Wichita Aero Club Luncheon*_
There are a lot of people in Wichita, Kansas who have more than a passing familiarity with flying on well-appointed business jets. They know the importance and effectiveness of airplanes as business tools. It goes without saying that the ultimate example of such an aircraft is the highly-modified Boeing 747 that serves as the President's plane, designated Air Force One whenever he is on board. About the only people on earth who might be a little more familiar than those who completed the airplane at Boeing Wichita are those who have served as pilots and crew members on the world's most recognizable head-of-state airplane. Colonel Mark Tillman, USAF (retired) falls into that latter category, having served as chief pilot for President George W. Bush.
Colonel Tillman will recount his experiences, including flying the President in the uncertain skies of September 11, 2001 when terrorists were known to be in control of airliners and threatening the lives of America's leaders, and attempting the seemingly impossible task of secretly transporting the President from Washington to Baghdad, Iraq on Thanksgiving Day, 2002. Both events rank among the most harrowing and compelling accounts any Presidential Pilot could tell…and they are only part of the story. Colonel Tillman, who often speaks to help raise support for the Wounded Warrior Project, will do so on Monday, November 12, 2012 at noon at the Wichita Aero Club's monthly luncheon. The event will take place at the Doubletree by Hilton Hotel at Wichita Airport. Tickets are $40 for non-members and $30 for WAC members. The event is open to the public.
"Mark Tillman personifies the phrase 'an officer and a gentleman.' He projects exceptional skill, judgment, and decisiveness that we would expect from the pilot who has been chosen to fly the most powerful man in the world. He is the type of officer that knows his job, takes it seriously and inspires confidence among those around him. All of that is obvious when you hear him speak, despite the fact that he tells his story in a humble, often humorous, and always respectful manner. This presentation will likely be among the most interesting and extraordinary ones we've ever had at the Wichita Aero Club," noted Dave Franson, WAC President. "It will also provide the audience with the opportunity to contribute to the Wounded Warrior Project, a cause that is very important to Colonel Tillman. Donation envelopes and information will be available at the event, as well. WWP supports our military personnel who have returned from combat with life-altering injuries and traumas, providing both financial and emotional support," he added.
Colonel Mark Tillman served as the nation's 12th Presidential pilot from 2001-2009.Col. Tillman's distinguished career spans 30 years in the United States Air Force. He was awarded the Distinguished Flying Cross in 2004 and promoted to Brigadier General by the President of the United States—the first military line officer to receive this honor. Since retiring, he has served as a corporate pilot for Discount Tire Company, headquartered in Phoenix, Arizona.