News
Senator Pat Roberts Expected to Discuss Aviation-related Legislation, Upcoming Election at April 11
WAC

Luncheon

March 22, 2012 9:56am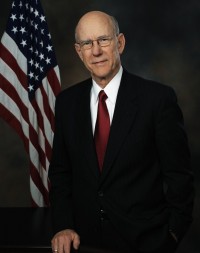 The Wichita Aero Club's April Luncheon speaker is used to addressing groups in Kansas. Senator Pat Roberts began doing so for almost 3 decades, having spent 16 years as a Congressman from the state's First District before being elected to the United States Senate in 1996. He is now serving his third term and has built a reputation as a national leader in agriculture, health care and defense. He is an advocate of a strong education system, free and fair trade policies, increased investment in science and technology, a focused foreign policy and a strong military — all of which are necessary to keep Kansas competitive in today's rapidly evolving global marketplace.
"We are extremely pleased to welcome Senator Roberts to speak at the Wichita Aero Club," noted WAC Executive Director Dave Franson. "His leadership in the Congress has always included solid advocacy on aviation-related issues and he's a recognized, well-informed and influential presence on Capitol Hill when it comes to this industry. In this crucial election year, when so many issues that effect aviation and aerospace companies, their employees, and their customers, we're fortunate to hear from someone who understands the issues, the players and the way the government is impacting the livelihood of so many Kansans."
Senator Roberts serves as the ranking member of the Senate Agriculture Committee. He's the first in history to hold that post in both houses of Congress. He is also a member of the Senate Finance Committee, the Health, Education, Labor and Pensions (HELP) Committee, and the Senate Rules Committee. He is past chairman of the Senate Intelligence Committee, where he led what has been called one of the most sweeping and exhaustive reviews of U.S. intelligence ever conducted.
Born in Topeka, Senator Roberts is the son of Wes Roberts, who was chairman of the Republican National Committee under President Eisenhower. He's a graduate of Kansas State University and a Marine Corps veteran. He began his political career when he joined the staff of Senator Frank Carlson in 1967. He also served as administrative assistant to First District U.S. Congressman Keith Sebelius, whom he succeeded upon the latter's retirement with his election to the House in 1980.
The Wichita Aero Club luncheon begins at noon in the Grand Ballroom of the Doubletree Hotel by Hilton, Wichita Airport. It will be preceded by a half hour reception at which Senator Roberts will be present.