News
ALEX

KVASSAY

WILL

RECALL

DAYS

WITH

LEAR

,

BEECH

AT

FEBRUARY

22

WAC

LUNCHEON

February 7, 2012 10:45am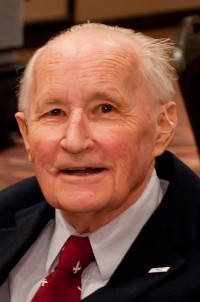 Veteran Airplane Sales Exec Will Share His Memories With Al Higdon at February 22 Wichita Aero Club Luncheon
Sandor "Alex" Kvassay has crossed the Atlantic Ocean so many times he can't keep track. He's circled the globe numerous times, as well. A Hungarian native and naturalized American citizen, he has stamps in his passports from places even veteran travelers have never heard of. At many of those destinations he also managed to sell airplanes. During a career that spanned five decades and included stints working for Bill Lear and Olive Ann Beech, he met an impressive number of world leaders, business moguls, and celebrities. Through it all, he was a consistent chronicler of his experiences, writing down his recollections and taking thousands of pictures. To this day, his accounts of his encounters generate wide interest. His column, ALEX REMEMBERS in the monthly issues of PROFESSIONAL PILOT magazine recently resulted in his being chosen as the publication's fourth most widely read author…out of a dozen contributors!
Another Wichita aviation legend, Al Higdon, who helped make "Learjet" a household word as a member of the PR staff for Bill Lear in the early 1960's, will also participate in the presentation, posing questions and offering his insightful perspectives, as well. "Both Al and Alex are blessed with outstanding recall and exceptional wit, so this should be one of the most entertaining luncheons ever," said Dave Franson, WAC Executive Director.
Potentially business aviation's most prolific traveler, Kvassay will share some of his most interesting tales at the Wednesday, February 22 luncheon of the Wichita Aero Club at the Doubltetree by Hilton Hotel at Wichita Airport (formerly the Wichita Airport Hilton). The luncheon begins at noon. Cost for Aero Club members is $30. Non-members may attend for $40. For more information, contact the Wichita Aero Club at [protected email address] or reserve space at the luncheon on-line at www.wichitaaeroclub.org.