Newsletter
Learn. Share. Fly – Beechcraft Journey
May 14, 2014 10:56am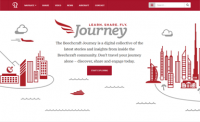 Sometimes I think those of us in the industry take aviation for granted. We live and breathe it every day and thus it's easy to lose appreciation for something when you are immersed in it on a daily basis. It even becomes common place to recognize an airplane simply by its unique sounds when it flies over.
As hard as it may be to believe, not everyone out in the world shares our knowledge or experiences in aviation. As we read in national main-stream publications from time to time, aviation is still often vilified as being play-toys for the super rich. The alphabet groups like NBAA and GAMA will step in to try and correct the perceptions, but the story is still out there to influence an un-educated audience. Wrong perceptions of aviation can influence individual buyers as well as corporate boards. Having been through multiple aviation industry cycles, it's clear that the communication efforts to help people understand the wide range of benefits of aviation will be a continual challenge for our industry.
Earlier this year, Beechcraft launched a new website called the Beechcraft Journey. It's not your typical website. Each aircraft owner has unique stories for how they got into aviation, how they purchased their airplane, how it has helped their business or how it has enabled them to help other people. Even professional flight crews often have strong affinities for the aircraft they fly and operate. Journey was built to help convey these stories; to share their experiences, their photos, their discoveries.
Getting into aviation can be a business decision, it can be a passion, it can be daunting or it can simply be a tool. Helping people understand what aviation can enable them to do is a broad story from a basic understanding of what business aviation is to a complex understanding of depreciation and tax rules. Much as pilots pass on their knowledge through "hangar talk", Journey works to share useful knowledge big and small.
Airplanes are so much more than metal, wires, leather and plastic. Journey was built to help aviation novices, as well as aviation veterans, navigate the ownership experience, learn, play and share what it means to be a part of this industry we call aviation.
Visit BeechcraftJourney.com to learn more.