Newsletter
Returning Historic B-29 to Former Glory
May 14, 2014 10:48am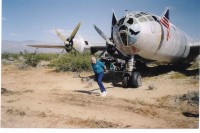 With a maximum range of 5,600 nautical miles and max speed of 357 mph, you'd think a Boeing B-29 Superfortress could make the trip from the California desert to Wichita in no time flat. But for B-29, Doc, delivered in the final months of World War II, it's been a four-decade-long journey with more twists and turns than an ascent of Mount Everest.
After spending 42 years deteriorating in the western Mojave Desert at the U.S. Naval Weapons Testing Center, Doc was rescued in 1998 by Tony Mazzolini and an intrepid group of volunteers. Mazzolini had dreamed of finding a fully-restorable B-29 since the mid-80s – a dream that, at times, seemed more like a nightmare. Between bureaucratic roadblocks, a constant flow of misinformation and behind-the-scenes intrigue, it's a wonder that Doc's resurrection ever gained traction.
Mazzolini's passion and persistence are paying off and will soon culminate in the form of a flying tribute to the Greatest Generation. A volunteer workforce is performing the restoration right here in Wichita. Doc will be one of only two airworthy Superfortresses worldwide, and there are no known remaining B-29 airframes restorable to flying condition. So, Doc is essentially a rare national treasure.
Doc's Friends, a volunteer-powered nonprofit organization, was formed by Wichita business leaders to help Mazzolini and Doc cross the restoration finish line. Jeff Turner, retired Spirit AeroSystems CEO, leads the board.
"This project has been a labor of love for Tony for many years. To say this man is simply tenacious would be a gross understatement, and his enthusiasm is highly infectious," said Turner. "Hundreds of volunteers, including even some of those who originally built B-29s at the Boeing Wichita plant during the war, have taken up the mission and are bringing Doc back from the brink of destruction. It was originally Tony's vision, but now it's shared and supported by individuals and organizations both in Wichita and across the globe."
Progress is ramping up on the restoration in the vintage Quonset-style hangar at the Boeing facility on the west side of McConnell Air Force Base. All four engines, plus a spare, have been purchased and are in the process of being mounted to the wings of the aircraft. All four propellers have been overhauled, and three are already on-engine. Control surfaces – "tail feathers" to the old-timers – have been artfully restored with their fabric skins and are being installed and re-rigged. New fuel cells, much lighter than the original self-sealing wartime versions, have been delivered and are currently being installed.
Doc is scheduled to make its first flight in more than 60 years later this summer. "We're definitely very close," said Turner. "But we need the entire community to rally behind Doc and help get him out of that hangar and into the air. To date, hundreds of thousands of volunteer hours and millions of dollars in support have been donated or raised, and most of the major components and parts have been acquired. But it's going to take another $750,000 to $1 million in support to complete the restoration and flight-testing. Contributions of any amount are truly appreciated and will be put to good use. Plus, they're tax deductible."
Although Doc's permanent home base will be Wichita, the aircraft will serve as a traveling museum and exhibition. People around the country will be able to see Doc in person and gain a richer understanding of the necessary sacrifices Americans had to make during the Second World War to secure our freedom.
"Seeing Doc fly, its polished aluminum gleaming in the sun, will serve as an inspiration to young and old alike," said Turner. "The first time that main gear leaves the runway will be the epitome of an American dream come true. And that's something worth supporting."
To join Doc's Friends or follow Doc's progress, visit www.b-29Doc.com. Doc can also be found on Facebook, Twitter and Tumblr.