Newsletter
Aero Club Luncheon with Larry Lawson
March 17, 2014 3:58pm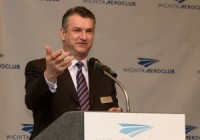 Wichita Aero Club's February luncheon featured Spirit AeroSystems President & CEO Larry Lawson. Lawson, whose most recent post was at Lockheed Martin in Dallas, TX., has been leading Spirit since April of 2013. The February presentation to the Wichita Aero Club marked Lawson's first public speaking engagement since moving to Wichita.
Lawson opened his presentation with a transportation history lesson of sorts, with antics from the earliest forms of transportation to current day aviation – noting that 2014 is the 100th anniversary of commercial aviation.
Delving into market research and industry statistics, Lawson discussed in detail some of the reasons why the current commercial airline traffic growth trend is here to stay.
"We're seeing about 10 percent growth in aircraft deliveries annually, with the demand coming both domestically and internationally," said Lawson. He continued, noting that commercial aviation demand ups and downs are directly tied to economic conditions. Today, 60 percent of airplanes are new or added inventory, while 40 percent involves retiring older airplanes.
"The replacement rate is mostly being driven by airlines wanting to operate more efficient aircraft," said Lawson.
Part of the transformation to operating more efficiently is the increase of carbon fiber being used to manufacture new aircraft.
"When trying to build a lighter and more aerodynamic airplane, most of the focus is really around propulsion – to get the most cost effective engine on the plane that you can," said Lawson.
In terms of the commercial aviation forecast, the numbers are at approximately 1,600 airplanes per year, and according to the OEMs, the capacity does not meet demand.
"One of the biggest challenges at Spirit, as we work for the OEMs, is keeping up on rate increases," said Lawson. Spirit designs and builds parts of every Boeing commercial airplane currently in production (737, 747, 767, 777, 787 and derivatives), as well as parts on Airbus' families of A320, A380 and A350 XWB aircraft.
All of those products, customers, and rate increases make for busy factory areas.
"When I go out to see the 737 line, building at 42 airplanes per month, it's fast moving and moving a lot of metal," said Lawson. "We're out in that factory right now looking at how to modernize it for the factory of the future. "
Looking towards the future, Lawson touched on how organic growth of the commercial aviation market is positive for Spirit.
"We have a $41 billion backlog so you can do that math – that's seven years of backlog. That's what attracts investors to commercial aviation because it's a long cycle business," said Lawson.
"One of the things that differentiates us, is the cost of our product, both engineering and manufacturing, is attractive in comparison to our competitors," said Lawson. "The OEMs have to choose if they want to build a large structure or pay someone else, and we've been fortunate to have won several of these programs."
The same value applies equally, or even more, in the defense market.
"We're an attractive partner," said Lawson. "We're on a number of defense programs, including KC-46 Tanker, P-8, CH-53K, and we just entered into agreement with Bell Helicopter on the V-280."
Lawson also touched on Spirit's supply chain and partnerships.
"We spend about $3.5 billion a year acquiring parts in our supply chain. A lot of that is in Kansas, so we're good partners and enjoy partnership," said Lawson.
Lawson continued by stating that Spirit is focused on keeping costs down, because cost pressures from customers – due to competition and other factors – trickles down to suppliers like Spirit.
"We need to continue to work costs down to stay competitive," said Lawson.
For more information on Aero Club member Spirit AeroSystems, visit their web site at www.spiritaero.com or on Twitter under the handle @SpiritAero.